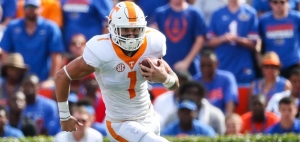 By Brian Rice – UTSports.com
Each week, UTSports.com takes a look at the numbers from the weekend past and the weekend ahead in Four Downs. This week: grinding on the ground, Dobbs the receiver and Jalen the tackle-maker.
First Down: 254 – Tennessee Rushing Yards
Despite the result, it was a record afternoon for Tennessee at Florida on Saturday. The Volunteers ran for 254 yards against the Gators, the most by a UT team against UF since the teams began an annual series in 1990.
Quarterback Joshua Dobbs led the Tennessee rushing attack with 136 yards on 18 carries. He became the first Vol to rush for 100 yards against the Gators since Travis Stephens' 226 yards on 19 carries in the 2001 Tennessee victory in the Swamp.
Dobbs' rushing performance was the best by a UT QB in the era since 1990, the previous high being Heath Shuler's 46 yards in 1992. His 136 yards were more than Tennessee gained as a team in 18 of the 25 games played between the teams in that period.
His mate in the backfield, Jalen Hurd, later became the second Vol since 2001 to rush for 100 yards against Florida, finishing with 102 yards on 28 carries. It was his fourth 100-yard game in his last five contests.
Hurd scored two touchdowns, becoming the first Vol running back to rush for multiple scores against UF since Jabari Davis in 2003. He is the first Tennessee RB to score a touchdown against the Gators since Monterio Hardesty in 2009. Tennessee had a rushing TD from the wildcat package in 2012.
Hurd's two touchdowns put him in pretty elite company in the series against Florida. Only five players since 1990 have rushed for multiple touchdowns in their carrers against UF. Davis hold the record, scoring six total TDs over his four years, one each in 2002 and 2004 and two in 2001 and 2003. Hardesty had two, one in 2006 and another in 2009. Stephens ran for two in 2001, as did Jamal Lewis in 1999 and Shuler in 1992.
The sophomore has now has scored at least one touchdown in his last five games and has had multiple TD games in four of his last five contests. He leads the SEC in overall touchdowns with 8.
Second Down: 58 – Dobbs Receiving Yards
Joshua Dobbs also impressed through the air, but not in his typical fashion. He was on the receiving end of a pass from Jauan Jennings that went 58 yards for the Vols' first touchdown of the day.
It was the first reception by a Vol QB since Peyton Manning hauled in a 10-yard pass from Jamal Lewis against Arkansas in Little Rock in 1997.
The 58 yards led all Tennessee receivers on the day, besting Ethan Wolf's total of 55 by three. He was one of eight players to catch passes for Tennessee on Saturday.
Dobbs accounted for 277 of Tennessee's 419 total yards, adding 83 passing yards to his rushing and receiving totals. He became just the second player in all of FBS football since 1996 to lead his team in passing, rushing and receiving. The only other player to accomplish the feat was Tulsa's James Kilian on Oct. 4, 2003 with 106 passing, 115 rushing and 35 receiving yards against Hawaii.
Third Down: Quick Hits
8 – Tackles for Jalen Reeves-Maybin, a team-high for the Volunteers. Reeves-Maybin has led Tennessee in tackles in three of four games this season. He had nine tackles against Bowling Green and a career-high 21 in the meeting with Oklahoma.
Reeves-Maybin has also recorded a sack in three of four games, Western Carolina being the only exception. With his third sack of the season on Saturday, the junior surpassed his total of two from last season.
1 – Interception by LaDarrell McNeil. With his second INT in as many games, McNeil extended his big year after returning from a preseason injury against WCU.
UT has forced 56 turnovers under Butch Jones, 4th in the SEC during that time frame. The Volunteers have forced at least one turnover in 19 of their last 22 games.
3 – Different players to complete a pass for Tennessee. In addition to Dobbs and Jennings, whose TD to Dobbs came on the first pass of his UT career, Alvin Kamara also attempted and completed the first pass of his career, a jump pass to Ethan Wolf.
The last time UT had three different passers record completions was Oct. 16, 2004, when Erik Ainge, Brent Schaffer and Dustin Colquitt all completed passes against Ole Miss in Oxford.
165 – Tennessee points over its first 4 games. The total marks the most points through four games since scoring 167 to start the 1996 season.
7 – First quarter points by Tennessee. The mark broke the Volunteers' streak of scoring double-digit points in the first quarter in five consecutive games after scoring 10 each of the last two weeks against Western Carolina and Oklahoma, 21 against Bowling Green and Iowa and 10 at Vanderbilt.
21 – Red Zone scores this season in 22 trips. The Vols were a perfect 4-4 inside the 20 on Saturday.
2 – Yards lost by Florida QB Will Grier on Kyle Phillips first-career sack in the third quarter.
51.3 – Average punt yardage for Trevor Daniel on six punts. Daniel boomed two game-long, 56-yard punts, marking his 10th and 11th of 50+ yards this season. Daniel had two punts downed inside the 20, giving him 10 inside the 20 this season.
31 – Carries by running back Alvin Kamara with no negative-yard plays, totaling 211 yards.
264 – Consecutive games with a point scored by UT, dating back to Sept. 17, 1994. It marks the fourth-longest active streak in FBS, the 10th-longest in history.
3 – Coin tosses won this season, surpassing the total for all of 2014. The Vols were 2-11 in the coin flip last season and kept the trend going by losing the toss in the opener against Bowling Green.
Fourth Down: A Look Ahead
13 – All-time wins against Arkansas, six of those coming in Knoxville. The Vols and Razorbacks met just three times before UA became a member of the Southeastern Conference in 1992. The two teams played annually from 1992-2002, with the Razorbacks' lone win in Knoxville coming in the first game of that stretch.
Arkansas won the last meeting, in Fayetteville in 2011. UA has never won back-to-back games in the series.
45 – Points scored by the Vols the last time the ESPN2 broadcast crew of Mark Jones and Rod Gilmore called a Tennessee game. The duo was on the call for the TaxSlayer Bowl win over Iowa and will be joined by Quint Kessenich on the sidelines Saturday.
14 – All-time wins on Oct. 3. The Vols will look to make it 15 when the Vols host the Razorbacks on Saturday and it's once again Football Time in Tennessee!