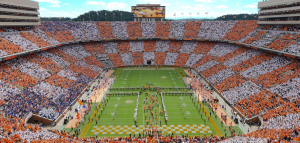 Perhaps it took a tweet from North Texas poking fun at the turf at Neyland Stadium for Tennessee athletic department officials to finally acknowledge there is a problem at Shields-Watkins Field.
With the field in decline worse than Enron stock, it appears UT is finally ready to correct a concern that Tennessee coach Butch Jones first addressed a year ago.
"We all understand there is an issue with the field right now as we conclude the season and you aren't going to see a big change in the finale against Vanderbilt,'' said a statement sent to me from the athletic department. "We have invested nearly $400,000 over the past year in the sod and care of the turf at Neyland Stadium. We will continue to invest (in) it so we can have a natural grass playing surface.
"As we have done in the past, we will continue to research with turf experts across the country to see what we can do to have a better playing surface in late October and November.''
I was told by several people that AD Dave Hart didn't think the field was an issue until recently. Perhaps he was tired of hearing TV commentators and other media and former players justifiably rip the condition of the field.
It was called "unacceptable'' and " pathetic'' and "embarrassing'' and "a joke.''
Considering the resources UT has in the athletic department – a budget of well over $100 million – the field is a joke. And it has been for two years.
In fact, growing grass at Neyland has been a growing concern since groundskeeper Bobby Campbell retired in 2010.
What baffles me is that UT never had an issue growing grass at Neyland from the time it was installed in 1994 to the time Campbell retired.
It also baffles me that UT has one of the world's foremost authorities on growing grass – Dr. John Sorochan — and groundskeeper Darren Seybold, who nurtures Neyland, wouldn't ask him for advice – at least not until about two weeks ago.
I have requested through UT's media relations director Ryan Robinson an interview with Seybold, Kevin Zurcher, who is Seybold's boss, and Hart.
I have been denied that request – three times.
As a journalist, I always tried to present both sides of a story. In this case, UT officials have elected not to talk to me.
"What do you want them to say?'' Robinson said to me.
I want them to say how the field got this bad, what are the planned solutions, why they didn't talk to two experts in their back yard and why they have been fiscally irresponsible with the amount of money that has been invested.
When Campbell oversaw Neyland Stadium, he never resodded. Since he left, UT has resodded the field each of the last four years. It costs about $100,000 each time for regular sod, $200,000 for thick sod. I was told UT used thick sod earlier this year, but I can't confirm it because no one at UT will answer questions.
Why resod annually?
UT won't answer that question either.
But you've got to wonder: Is Seybold so hard-headed he won't ask Campbell for advice? Is he so stubborn he won't consult with Dr. Sorochan? Is he so egotistical that he thinks he doesn't need any help to fix the mess?
I don't know, because Seybold isn't talking.
I visited UT's research facility in July. I was impressed.
That day, Dr. Sorochan got a call from Missouri asking for his advice on a soccer field. He also got a call from Singapore, asking for advice on soccer and cricket fields.
So a country 13 time zones away respects Dr. Sorochan's expertise but a school 5 miles away from his research farm doesn't.
Dr. Sorochan, who has a PhD from Michigan State and has been employed at UT since 2002, is the NFLPA rep for turf. He is a consultant for several NFL teams. He has 14 NFL field surfaces growing at his farm. Imagine recruits visiting the facility and running on NFL type fields.
FIFA was in Knoxville three weeks before I visited him. He helped light the soccer fields in the indoor Silverdome stadium.
I wanted to interview him this week but couldn't. Why? He is in China, doing consulting work.
"He's pretty respected everywhere but here,'' one source told me. "It's incomprehensible that he's not involved.''
It's also incomprehensible that Campbell isn't involved. Campbell once told me growing grass at Neyland is a bit tricky, but he figured it out. So why would UT consult "experts cross the country'' when they've got a retired one living here and willing to assist?
Campbell has told me in the past there is no need to have Field Turf at Neyland – and UT agrees.
Last year when I started asking questions about the poor playing field at Neyland, I was told the field doesn't get enough sunlight due to the sky boxes.
Those skyboxes have been in place since 1999.
"That's a lame excuse,'' a source told me. "Concrete doesn't grow. The shade is no different that it was 10 years ago.''
But the groundskeeper is different. And that seems to be the problem.
To grow grass last winter, Seybold spent over $19,500 to rent funky-looking lights from a company based in the Netherlands that only Steven Spielberg could appreciate. That doesn't count the utility bill.
I was told by multiple sources that Seybold aerated the field in August. Several experts I talked to say that was a major mistake, because you need the grass to grow and build roots so you have a solid foundation with no slipping and sliding. You shouldn't aerate a football field later than May, experts told me.
I would like to ask Seybold why he aerated the field that close to football season. But he's not talking.
Also, to protect the field, UT canceled the high school jamborees last year, robbing local players of a chance to play in a storied stadium.
If Neyland's turf were judged on a won-loss basis, it would have been 11-1 in 2011, then 9-3, then 6-6 then 3-9 then 0-12.
That's a trend UT has tried to correct by pouring money into the field, but not asking nearby experts for another solution.
Put it this way, if Josh Dobbs needs advice on how to play quarterback, he would ask Peyton Manning, a former Vol great, not Tim Tebow.
Volquest.com reported in September that UT spent almost $450,000 on the Neyland turf and practice fields in a 14-month period that ended Aug. 31.
Campbell's yearly budget for Neyland and the practice fields was about $100,000, though on occasion it was more depending on practice field upkeep.
At a time when the athletic department budget is tight and UT is pinching pennies, spending $450,000 in 14 months is fiscally irresponsible.
One phone call could prevent resodding every year.
One phone call could prevent aerating too close to the start of the season.
Instead, UT is leaking money to support a problem created by Seybold.
UT's statement said there would not be "big changes'' to the field before the Vanderbilt game Nov. 24.
But I am told by sources that UT will trim the grass closely and add sand, hoping to firm up the surface. It won't be aesthetically pleasing, but it will make the field imminently more playable, the source told me.
Another source said the field has been so treacherous and slippery, UT has taken plays out of the playbook for fear they can't execute them on a subpar surface.
Also, I'm told, that a slippery surface can lead to more muscle strains and ankle injuries.
It's a shame UT has let Neyland's field get to this point.
It's also a shame that UT officials won't provide an explanation as to why the problem exists and how it plans to fix it.
It owes that to the UT fans that purchase skyboxes and club seats and season tickets. It owes that to the students that attend games.
More importantly, it owes a safe field to the players that play on it.