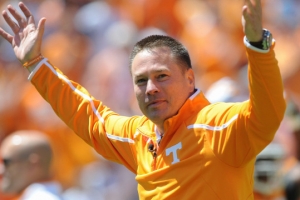 College football writer Phil Steele joined Sports 180 on Monday to preview the upcoming season.
Steele believes Tennessee is the favorite to win the SEC Eastern Division thanks to an abundance of talent and experience returning from last year's team, which finished the season with a 9-4 record. Steele believes the Vols have as much potential as any team in the country entering the 2016 season.
"They're definitely a legitimate national title contender," he said.
A lot of that is thanks to the 17 starters Tennessee has returning from last year's team.
"They are the No. 1 most experienced Power 5 team," Steele said. "We can't hear Butch (Jones) say how young they are this year, because they're not. … Tennessee has got good players at every single unit, every single position across the board."
Steele pointed out Tennessee came close to winning the SEC East last year; the Vols lost three conference games by a combined 10 points. Being the favorite to win its division this year could help Tennessee make a run at the College Football Playoff.
"You look at the fact that if you win the SEC East, you find yourself in the SEC title game," Steele said. "And if you win the title game, you're basically one game away from being right there in the playoffs. I think Tennessee's got a good shot, provided they don't let those leads slip away and play up to their talent level."
The full interview with Phil Steele – check out PhilSteele.com – is below. Hear more of his thoughts on Tennessee and the SEC as we approach the 2016 season.