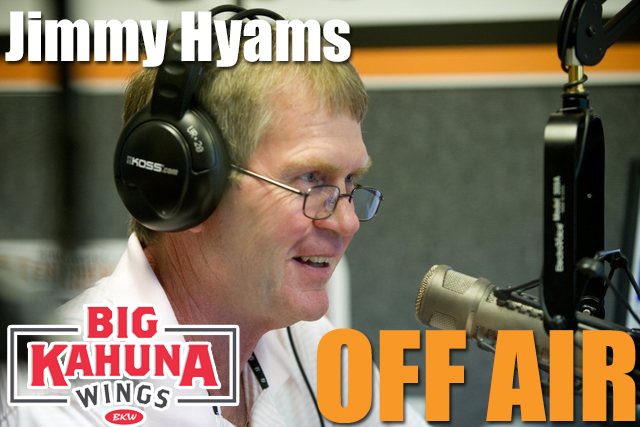 By Jimmy Hyams
Sunday night, the rumors were rampant that Tennessee running back Jalen Hurd and defensive linemen Jonathan Kongbo had quit the team.
Turns out, Hurd is transferring and Kongbo's tweet was an apparent miscommunication.
I was told late Sunday night by a source in the football program that Hurd and Kongbo had both attended an 8 p.m. meeting and both were on the team.
What the source didn't know was that a teary-eyed Hurd had told several teammates last night he was transferring.
Hurd didn't meet with Tennessee coach Butch Jones to inform him until Monday morning. Jones confirmed my report at today's 12:15 press conference.
Hurd told teammates he planned to play wide receiver or tight end at his new school because he would have a better chance at a long NFL career at a new position.
A potential destination is Los Angeles. Hurd's dad is a trainer in LA area, so Hurd might consider transferring to UCLA or California, where receiver Vic Wharton resurfaced after one year at Tennessee. Wharton and Hurd are close friends.
It's surprising that Hurd would decide to quit the team after eight games and 445 yards shy of setting the school's all-time rushing record.
It's even more surprising that Hurd would sit a year rather than turn pro after this season. Hurd is not expected to be able to graduate from UT in the next few months. Thus, he would not qualify as a graduate student who could play immediately in 2017.
Hurd's draft stock isn't very high right now. If he wants to play tight end or receiver, it would likely drop even more, since no one knows how effective he would be at either spot.
So maybe playing a year at UCLA or Cal would prove he has pro ability at a new position.
But you wonder how NFL teams would view a player who quit on his team midway through this season.
You wonder how NFL teams will view a player who didn't want to play in the second half at South Carolina with a minor-at-best injury. Many sources said he wasn't hurt at all.
Against South Carolina on Saturday night, Hurd ran 16 yards on eight carries and didn't want to play in the second half. In the same game, John Kelly came off the bench and rushed for 94 yards on 14 carries.
It's true the 6-foot-4, 240-pound Hurd isn't anymore suited for a zone-read scheme than DeMarco Murray. Hurd is a downhill runner who likely would flourish as an I-back.
I don't know if UT made unkept promises about putting Hurd in the I.
But last year, Hurd was effective in the zone read, rushing for 1,288 yards and averaging 4.6 yards per carry. As a freshman, he had 899 yards and averaged 4.7 yards per carry.
This season, he has 451 yards on 122 carries, an average of 3.7 per run. More than 40 percent of his runs have gone for 2 or fewer yards, with more than 25 percent of those on first down.
His receiving stats have dropped precipitously, as well. He had 35 receptions as a true freshman in 2014, 22 last season and has just 10 this season.
Hurd is only 440 yards away from breaking the school's career rushing record. Apparently, he could care less.
Hurd reminds of the way Arian Foster's career ended at UT – on a sour note. Foster was on pace to break Travis Henry's UT rushing record, but a bad attitude and lack of effort derailed those changes.
Foster went undrafted but later had a nice NFL career, becoming the Houston Texan's all-time leading rusher.
Could Hurd be a better NFL running back than he was at UT? Could he be an NFL tight end?
Time will tell.
Hurd was one of the highest-rated running backs prospects in Tennessee high school history when he signed with the Vols in 2014. He played just one game as a high school senior after suffering a torn labrum.
Meanwhile, rumors that defensive end Jonathan Kongbo quit apparently are false. Kongbo posted a cryptic tweet Sunday night. A source said Kongbo, who was at the team meeting, was referring to his favorite soccer team, not leaving Tennessee.
All things must come to an end pic.twitter.com/Zd9YuNLNnD

— Jonathan Kongbo (@Kongbo_1) October 30, 2016
Kongbo, the nation's highest-ranked junior college prospect, has four tackles this season.
The departure of Hurd brings up another issue: What's going on with this Tennessee team?
Preston Williams, a five-star wideout, quit a couple of weeks ago.
Dontavious Blair, the top-rated junior college offensive tackle in 2014, never materialized and left the program.
Drew Richmond, the No. 2 rated offensive tackle in the nation in the Class of 2015, has been benched and doesn't play much despite an offensive line that is in dire need of help.
Now, Hurd and Williams quit within weeks of each other.
About the only way Tennessee can save grace now is to win out.
Going 9-3, then capturing a bowl isn't bad.
---
Sponsored by Big Kahuna Wings: The wings that changed it all.