By Jimmy Hyams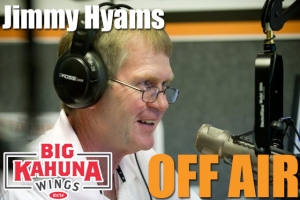 Last November, Tennessee looked like a team and a program ready to turn the corner when it upset No. 12 Kentucky.
The Vols had just recorded a second win last season over a ranked team and pulled even at 5-5 with a bowl game in site.
Fast forward 11 months and Tennessee was mired in a horrible slump, having lost the last two games of last season 88-30 to Missouri and Vanderbilt, then squandering leads against FCS opponent Georgia State and BYU.
The Tennessee coaches, players and fans were starved for a win over someone not named Chattanooga.
They finally got it, taking down touchdown favorite Mississippi State 20-10 Saturday afternoon at Neyland Stadium, thanks to a ball-hawking, gang-tackling defense and an offense that generated an impressive fourth quarter drive to put the game away.
Tennessee's maligned defense recorded 10 tackles for loss, seven sacks and three interceptions – one each by Nigel Warrior, Kenneth George and Trevon Flowers.
"I thought the guys fought really hard,'' Tennessee coach Jeremy Pruitt said. "They've been busting their tails all fall, trying to find a way to win.''
They found a way by stuffing the leading rusher in the SEC, State's Kylin Hill. Averaging 119.2 yards per game with 344 yards coming after contact, Hill was a non-factor, rushing for 13 yards on 11 carries with a long of 4.  He couldn't have had more than 4 yards after contact.
"Defensive line wise, we played pretty well,'' Pruitt said, who complimented the defense's gap integrity, tackling in space and swarming to the ball.
"We felt like we needed to make the quarterbacks beat us and not Hill.''
Hill certainly didn't beat UT. Neither did the Bulldogs' quarterbacks, who completed only 11 of 23 passes for 146 yards with three interceptions.
Warrior, a senior who played perhaps his best back-to-back games as a Vol, said his pick was a throw into double coverage.
"I saw a brown spot,'' Warrior said when he turned around in coverage, " and the only brown spot I know is the ball.''
Warrior seemed to admonish himself for not being more productive in previous games.
"I wasn't playing as hard as I could,'' Warrior said.
Warrior said he wasn't surprised by the team's three picks.
"This is what we work for,'' he said. "In practice, we have over 25 picks and it's showing.''
Tennessee threw two end-zone picks, both by Brian Maurer in the first half. And both into coverage.
Pruitt called them "silly mistakes … we can't get greedy down there.''
Tennessee wasn't greedy before halftime. After a Flowers interception set the Vols up at the MSU 37, Pruitt went ultra conservative with backup quarterback Jarrett Guarantano, who was replacing the injured Maurer (concussion).
"Before the half we were pretty conservative,'' Pruitt said. "We knew the line to gain for a field goal.''
Brent Cimaglia connected from 51 yards out, with a foot to spare, to give UT a 10-3 halftime lead. It proved to be crucial when State rallied in the second half.
MSU scored a touchdown with 8:27 left in the game to cut UT's lead to 13-10.
UT was backed up at its 9 after a holding penalty on the ensuing kickoff.
But the Vols marched 91 yards on nine plays, capped by Guarantano's 39-yard touchdown pass to Tyler Byrd. The Vols chewed up almost six minutes, leaving State little time for a comeback.
"That was a great drive at the end of the game,'' Pruitt said. "It was a great win for our program and good for our guys.''
Byrd, a highly touted recruit who hasn't been much a factor on the field during his career, said he never considered transferring in an age when transfers are common place.
"I feel like if you leave somewhere, you're giving up,'' said Byrd, a senior. "And I didn't want to give up.''
Tennessee junior guard Trey Smith was confident the Vols could score late in the game.
"We all believed in each other that we could get the job done,'' Smith said. "It was a great feeling to impose your will and move guys from Point A to Point B.''
To celebrate the win, Warrior leaped into the UT student section.
"I had to, I had to,'' Warrior said.
"I should've joined you,'' Bituli said.
"Yes,'' Warrior said, "you should have.''
UT's hope is there will be a next time – and it won't take 11 months.
---
Sponsored by Big Kahuna Wings: The wings that changed it all