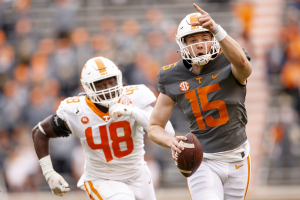 By Vince Ferrara / @VinceSports
In my blog "Vince's View," here on 991TheSportsAnimal.com, I break down the much-discussed Vols quarterbacks. Plus, I reflect on my observations, notes and views from Tennessee's 2021 Chevrolet Orange and White spring football game at Neyland Stadium Saturday afternoon.
Did Not Play (21)
QB Kaidon Salter (7) *suspended
RB Len'Neth Whitehead (27)
WR Malachi Wideman (13)
WR Jimmy Holiday (10)
WR Walker Merrill (19)
TE Austin Pope (81)
OL Riley Locklear (56)
OL James Robinson (71) *suspended
DL LaTrell Bumphus (88)
DL Greg Emerson (90)
DL Elijah Simmons (51)
DL Darel Middleton (97)
DL Aubrey Solomon (98)
DL Isaac Washington (95) *suspended
ILB Aaron Beasley (24) *suspended
ILB Martavius French (29) *suspended
ILB Aaron Willis (41) *suspended
ILB Jeremy Banks (33)
OLB Byron Young (13)
OLB Roman Harrison (30)
DB Cheyenne Labruzza (44)
Quarterbacks and Combined Stats in Game
18 (R-So) Brian Maurer 9-15, 171 yds, 1 TD, 2 car 22 yds
5 (R-Sr) Hendon Hooker 10-14, 11 yds, 1 TD, 1 INT, 5 car 13 yds, 1 rush TD
15 (So) Harrison Bailey 12-15, 260 yds, 2 TD, 1 car 4 yds
14 (R-So) Spencer Smith (walk-on) 3-3, 31 yds
Vince's View:  I thought going into spring practice that Bailey had a slight edge for the top QB spot. Then, in the first half of camp, Brian Maurer looked the best. Then, I thought Hendon Hooker had pulled in front leading up to the spring game. Now, Bailey looked best in the most important dress rehearsal, the spring game. Take a look at the breakdown below for more perspective on who did what with and against which units.
Drives – Quarterback, Units and Result
Maurer – 2 Offense vs. 1 Defense – Punt
Hooker – 1 Offense vs. 2 Defense – TD
Bailey – 3 Offense vs. 3 Defense – TD
Maurer – 2 Offense vs. 1 Defense – FG
Bailey – 1 Offense vs. 2 Defense – TD
Hooker – 3 Offense vs. 3 Defense – TD
Maurer – 2 Offense vs. 1 Defense – Punt
Bailey – 1 Offense vs. 2 Defense – Punt
Maurer – 3 Offense vs. 3 Defense – TD
Hooker – 2 Offense vs. 1 Defense – INT
Bailey – 1 Offense vs. 2 Defense – TD
Maurer – 3 Offense vs. 3 Defense – Punt
Hooker – 2 Offense vs. 1 Defense – Half
Bailey – 2 Offense vs. 1 Defense – TD
Maurer – 1 Offense vs. 2 Defense – TD
Smith – 3 Offense vs. 3 Defense – TD
Hooker – 1 Offense vs. 1 Defense – TD (only 1s vs. 1s matchup)
Total – 10 TDs in 17 drives
Vince's View: The offense (and the game overall) was pretty clean and efficient without mass confusion. The tempo looked pretty good, although I'm confident that the coaches feel like it can be even faster. I love the fact that UT isn't constantly substituting and having receivers switch sides of the field. They have multiple play calls with plenty of route options at the same receiver spots along with some subtle, quick formation changes they can do off of that. That allows you to keep the tempo. I can't tell you how many times UT would try to go fast during the Butch Jones era where WRs would keep switching sides of the field and trying to figure out where they needed to be, completely slowing down the tempo and helping the defense. If you sub, the defense can as well and it removes the wear down, fatigue factor.
Harrison Bailey Drives (5)
4 TDs (3 Off vs. 3 Def / 1 Off vs. 2 Def / 1 Off vs. 2 Def / 2 Off vs. 1 Def)
1 Punt (1 Off vs. 2 Def)
*3 drives with the 1st team offense
*1 drive vs. 1st team defense
Vince's View: The eye test backs-up the numbers of Bailey having the best day. He was the most accurate of the QBs. Even though it was with the 3s, he drew the defense offsides, knew he had a free play and smartly took a deep shot that was accurate for the 73-yard TD to Jack Jancek. Bailey looked like he wasn't suffocated with limitations put on him by coaches. There should be a progression from his freshman season where he was thrown in too early. It should be noted that Bailey had the most drives with the first team offense. That's a good sign. That also means he had the most help around him. Plus, he only faced the first team defense on one drive all day. There was a big drop-off on defense with the back-up units, so that surely helped to some degree.
Brian Maurer Drives (6)
2 TDs (3 Off vs. 3 Def / 1 Off vs. 2 Def)
1 FG (2 Off vs. 1 Def)
3 Punts (2 Off vs. 1 Def / 2 Off vs. 1 Def / 3 Off vs. 3 Def)
*1 drive with the 1st team offense
*3 drives vs. 1st team defense
Vince's View: Maurer only received one drive with the first team offense. He did lead that unit to a touchdown on that drive. Maurer showed his usual mobility and play-making potential outside the pocket. He does vacate the pocket too quick at times relying on his legs. He had an intentional grounding call that was unnecessary and threw near the ground on a wide receiver screen to Jalin Hyatt on the first drive that destroyed the play.
Hendon Hooker (5)
3 TDs (1 Off vs. 2 Def / 3 Off vs. 3 Def / 1 Off vs. 1 Def)
1 Half (2 Off vs. 1 Def)
1 INT (2 Off vs. 1 Def)
*2 drives with the 1st team offense
*3 drives vs. 1st team defense
Vince's View: Hooker, like Maurer, faced the 1st team defense the most. His success was spread out against all units. I thought Hooker was the smoothest in getting snaps off quickly. Obviously, the pick six was the one glaring negative for the QBs. Hooker also had some of the wildest misses.
Overall Unit Results
1st Team Offense: TD, TD, punt, TD, TD, TD
1st Team Defense: Punt, FG, Punt, INT, Half, TD, TD
Vince's View: The last drive was the only instance of 1s vs. 1s in the game. That certainly makes the evaluation and understanding of what we all saw more difficult. That's where diving into who was on the field when and against whom is useful. The biggest takeaway from the team results and the eye test is that the 1st team defense (even missing a lot of likely starters) performed much better than the backups. That speaks to the lack of depth on defense. Even with everyone back, there are still plenty of unknowns about this defense under first-year DC, Tim Banks.
Other Standout Performers
WR Cedric Tillman: Made two of the most impressive catches in the game to back-up an excellent spring where he's trying to be this year's Josh Palmer.
WR Velus Jones Jr.: Had an easy TD catch right after a 52-yard catch. He gets open and is a sure-fire starter.
TE Princeton Fant: All the tight ends saw work with multiple units because they only had four available bodies, three on scholarship. Plus, UT showed some two tight end looks. Fant led the tight ends in receptions with 4 for 56 yards. He split-out wide. He even ran a tight end slant, which has been a rarity on Rocky Top. He told us a few weeks back that he was excited about this offense and that he couldn't wait to show everyone his passing game skills. He's a former wide receiver, so the ability should be there despite being used as primarily a blocker. I think it's a really nice sign that the coaching staff can identify and tap into his skills. How many others will they be able to do that with?
CB Warren Burrell: Not many brag-able plays on defense, but Burrell's 34-yard pick-six was the D's play of the day. I don't believe a pass was completed against him. He had tight bump-and-run coverage and some off-coverage looks as well. He did have one pass interference call in the endzone. He also had a strong spring according to teammates.
OG Javontez Spraggins: He did a really nice job in this game and in spring practice. He cleaned out DL Dominic Bailey on a pull left from RG on a rushing TD for the first team. Cade Mays started at RG, but the physical Spraggins got some work there with the first team also. If he continues to play well and show he's one of the best 5, that could kick Cade Mays out to LT pushing Dayne Davis to a reserve role. There are other potential scenarios as well since Cade Mays is likely the only sure starter in that group.
Concerns
Defense: There was very little pass rush, especially from the back-ups. The depleted linebacking unit was on display. With the addition of QB Joe Milton as a transfer, linebacker and defensive line are one and two on the transfer portal priority wish list for Tennessee.
Specialists: Punter Paxton Brooks was inconsistent vs. air with no rush. He has a big leg and is the unquestioned starter. UT will need a better year from him. Place kickers Chase McGrath, USC transfer, and Toby Wilson made all their kicks, but those were a little low and line drive kicks. Wilson handled the short kicking duties last season after Brent Cimaglia was injured and opted out of the rest of the season.
---
*Read all my blog posts
*Subscribe to my podcast
*Check out much more of my broadcasting work on my website