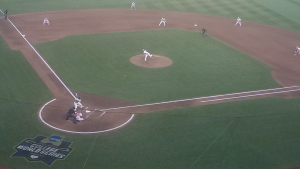 By Vince Ferrara / @VinceSports
Monday was Day 4 for me here at the College World Series. Here's what it looked like from "Vince's View."
99.1 THE Sports Animal's coverage of the Vols in the College World Series in Omaha is presented by: Senior Benefit, AG Heins Company, Bobcat of Knoxville, Mercedes Benz of Knoxville and Chattanooga Whiskey.
Vince's CWS Trip Day 4
*Buffet style breakfast in the team serving room
*Full day of sponsored reports from Omaha on 99.1 THE Sports Animal starting with The Starting Lineup as well as NewsTalk 98.7 and WIVK in morning and afternoon drive
.@VinceSports joined @TSL991 from #Omaha to talk #OmaVols and preview Texas:https://t.co/8LrwgPgOYz

— 99.1 THE Sports Animal (@SportsRadioWNML) June 21, 2021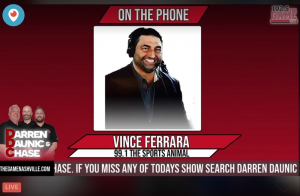 *Radio reports from Omaha for stations in Nashville and Florence, AL
*Lunch at Addy's Sports Bar…fantastic "Char Buffed" wings that are chargrilled, smoky with a hint of buffalo sauce!
*The Vols practiced late in the afternoon back at Creighton University
*Started prep for Tennessee's opponent on Tuesday in an elimination game Texas
*Returned to TD Ameritrade Park and enjoyed a fabulous pitching duel between Jack Leiter (15 Ks for Vandy) and Sam Highfill/Evan Justice (2 hits allowed for NC State) in a 1-0 Wolfpack win sending them to the semifinals at 2-0.
According to ESPN Stats & Info…

NC State is the first team to beat the overall #1 seed (Arkansas) and the defending National Champs (Vandy) in the same NCAA tournament.

They're the fourth team to face both in same tourney since seeding began in 1999

— Kelsey Riggs (@kelseyriggs) June 22, 2021
---
*Read all my blog posts
*Subscribe to my podcast
*Check out much more of my broadcasting work on my website