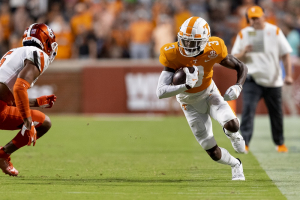 By Vince Ferrara / @VinceSports
It was just game one against a team that isn't close to what the Vols will face the rest of this season, but there are still some positives to take away from Tennessee's Week 1 win over Bowling Green, 38-6.
1. Knowing What To Do
You didn't see players out of place, looking around like they don't know the call or their assignment or where to be like we've seen from them in recent years. The schemes aren't as complex on either side of the ball and the players operated like they knew the plan and the call. Cleaning things like that up at least give you a fighting chance. That's a positive on the coaching staff as well as the players.
2. Defensive Line
Despite not being able to see the potential difference-making pass rush of DE Byron Young, who did not play, the Vols moved the line of scrimmage quite a bit. UT recorded 11 tackles for loss and a +7 in that category. The unit had two sacks and allowed just 32 yards rushing. DE/OLB Tyler Baron had a couple of bull pass rushes back to the quarterback, although I had even higher expectations for him. DL Caleb Tremblay was in the backfield from both the interior and end spots. Big 350-pound defensive tackle Elijah Simmons was a force that drew some extra attention from Bowling Green. Bryson Eason had his most effective day in a Tennessee uniform with two of those TFLs. You could see the line doing it's job disrupting and allowing the linebackers and secondary to flow to the ball and make plays. Star defensive back Theo Jackson was among those who benefitted with two of those TFLs. Matthew Butler said the defensive line would be the most improved unit on the team. Based on seeing them at practice, hearing about how many guys had good camps and thinking about how much better coached they'll be under DL coach Rodney Garner, I felt better about the defense than better camp. The unit played like it's made that jump, which is necessary for this team to succeed.
3. Tempo On Offense
The first two drives were masterful on offense for Tennessee. Two TD drives that combined for 20 plays, 133 yards in just 5:00 of clock time. That's an average of 15 seconds per play. That includes running the play and lining up. UT was efficient and balanced as well, with 9 passes and 11 runs. That's the balance that is typical of the identity of a Josh Heupel. The lack of substitutions, not having receivers switch fields, hustling to get up and give the right official the ball, center Cooper Mays sprinting to the spot ready to run the next play, quarterback Joe Milton knowing the next call and the coaches not delaying the calls…were all a part of the elite-level tempo. There's a photo of wide receiver JaVonta Payton in our photo gallery (see above) where Payton is still in bounds and Heupel appears to be already calling the next play. Having success ramps-up the ability to go fast, so it didn't continue to look that way, but it gives you a feel for what it could do to defenses. UT racked-up 88 plays in the game, which is where they would like to be. That's where Heupel's offenses at UCF were usually at among the nation's leaders in offensive plays run. That could pay fourth quarter and late season dividends.
4. Halftime Impact
This had been an area lacking for a while at UT and it looked better Thursday night. The Vols came out with an 8-play 72-yard touchdown scoring drive in 1:58 to start the third quarter. All 8 plays on that drive were runs. UT reestablished the line of scrimmage with a plan. Tennessee would dominate the quarter and continue to pull away to the finish line.
5. Running Game
Tennessee rushed for 331 yards on 64 rushing attempts at 5.2 per carry. Your 1 and 1a running backs carried the load almost exclusively and both rushed for 116 yards and a touchdown. Both ran hard and broke tackles. Jabari Small put his foot in the ground and made defenders miss in the open field several times. I was even more impressed by Tiyon Evans. He shrugged off would-be tacklers regularly and showed athleticism to go with his power. You add now having a running threat on designed runs and scrambles at quarterback with Joe Milton and you now have more for future defenses to have to think about. We didn't see much of speedy freshman Jaylen Wright, especially with the first team, so that area could still evolve.
Again, I know it was Bowling Green, but these are some things that could be promising signs as the season continues.
Tennessee hosts Pittsburgh Saturday at Noon. I'll have an interview with a player in the pregame for a preview of the matchup.
---
Find more of my broadcasting work at VinceSports.net