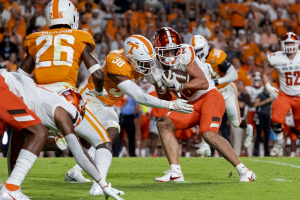 By Vince Ferrara / @VinceSports
Below are my Week 2 SEC football predictions.
This season, I'm sharing my picks both against the spread and straight-up.
2021 Week 1 vs. Spread Record: 8-6 (57%)
2021 Week 1 Straight-Up Record: 11-3 (79%)
2020 SEC Season Prediction Record Straight-Up: 66-12 (85%)

Check back on my "Vince's View" blog page for future posts including weekly SEC football and NFL game predictions. Bookmark my blog page and check back often.
---
WEEK TWO BRINGS FIRST LEAGUE GAME OF SEASON
SATURDAY, SEPTEMBER 11
Alabama State (1-0) at #25 Auburn (1-0, 0-0 SEC)
Auburn, Ala. • Jordan-Hare Stadium (87,451)
Noon ET • SEC Network
Series: AU leads, 1-0
SECN: Dave Neal, Deuce McAllister, Andraya Carter
Sirius: 81 • XM: 81
Spread: Auburn -49
Vince's Pick vs. the Line: Auburn -49
Score Prediction: Auburn 52 Alabama St 0
South Carolina (1-0, 0-0 SEC) at East Carolina (0-1)
Greenville, N.C. • Dowdy-Ficklen Stadium (51,000)
Noon ET • ESPN2
Series: SC leads, 14-5
ESPN2: Brian Custer, Kelly Stouffer, Lauren Sisler
Sirius: 134 • XM: 190
Spread: South Carolina -2
Vince's Pick vs. the Line: South Carolina -2
Score Prediction: South Carolina 27 East Carolina 24
Pittsburgh (1-0) at Tennessee (1-0, 0-0 SEC)
Knoxville, Tenn. • Neyland Stadium (102,455)
Noon ET • ESPN
Series: Pitt leads, 2-0
ESPN: Dave Pasch, Dusty Dvoracek, Tom Luginbill
ESPN Radio: Marc Kestecher, Max Starks
Sirius: 135 • XM: 191
Spread: Pittsburgh -3.5
Vince's Pick vs. the Line: Pitt -3.5
Score Prediction: Pittsburgh 28 Tennessee 24
#13 Florida (1-0, 0-0 SEC) at South Florida (0-1)
Tampa, Fla. • Raymond James Stadium (65,890)
1 p.m. ET • ABC
Series: UF leads, 1-0
ABC: Bob Wischusen, Dan Orlovsky, Kris Budden
Touchdown Radio: J.P. Shadrick, Gino Torretta
Sirius: 211 • XM: 211
Spread: Florida -28.5
Vince's Pick vs. the Line: Florida -28.5
Score Prediction: Florida 45 USF 7
UAB (1-0) at #2 Georgia (1-0, 0-0 SEC)
Athens, GA • Sanford Stadium (92,746)
3:30 p.m. ET • ESPN2
Series: UG leads, 2-0
ESPN2: Mark Jones, Robert Griffin III, Quint Kessenich
Sirius: 134 • XM: 190
Spread: Georgia -23.5
Vince's Pick vs. the Line: UAB +23.5
Score Prediction: Georgia 27 UAB 10
#5 Texas A&M (1-0, 0-0 SEC) vs. Colorado (1-0)
Denver, Colo. • Empower Field at Mile High Stadium (76,125)
3:30 p.m. ET • Fox Sports
Series: UC leads, 6-3
FOX: Joe Davis, Brock Huard
Sirius: 135 • XM: 191
Spread: Texas A&M -17
Vince's Pick vs. the Line: Texas A&M -17
Score Prediction: Texas A&M 45 Colorado 21
Mercer (1-0) at #1 Alabama (1-0, 0-0 SEC)
Tuscaloosa Ala. • Bryant-Denny Stadium (101,821)
4 p.m. ET • SEC Network
Series: UA leads, 3-0
SECN: Tom Hart, Jordan Rodgers, Cole Cubelic
Sirius: 81 • XM: 81
Spread: Alabama -53
Vince's Pick vs. the Line: Alabama -53
Score Prediction: Alabama 56 Mercer 0
#15 Texas (1-0) at Arkansas (1-0, 0-0 SEC)
Fayetteville, Ark. • Reynolds Razorback Stadium (72,000)
7 p.m. ET • ESPN
Series: UT leads, 56-22
ESPN: Joe Tessitore, Greg McElroy, Katie George
Sirius: 135 • XM: 191
Spread: Texas -7
Vince's Pick vs. the Line: Texas -7
Score Prediction: Texas 35 Arkansas 21
North Carolina State (1-0) at Mississippi State (1-0, 0-0 SEC)
Starkville, Miss. • Davis Wade Stadium at Scott Field (61,337)
7 p.m. ET • ESPN2
Series: Tied, 3-3
ESPN2: Anish Shroff, Mike Golic Jr., Taylor McGregor
Learfield: Kate Scott, Mike Golic
Sirius: 134 • XM: 190
Spread: North Carolina State -1
Vince's Pick vs. the Line: NC State -1
Score Prediction: NC State 31 Miss State 27
McNeese State (0-1) at LSU (0-1, 0-0 SEC)
Baton Rouge, La. • Tiger Stadium (102,321)
7:30 p.m. ET • SECN+/ ESPN+
Series: LSU leads, 1-0
ESPN+: Mike Morgan, Charles Arbuckle, Taylor Davis
Sirius: 119 • XM: 203
Spread: LSU -38.5
Vince's Pick vs. the Line: LSU -38.5
Score Prediction: LSU 49 McNeese State 7
Austin Peay (1-0) at #20 Ole Miss (1-0, 0-0 SEC)
Oxford, Miss. • Vaught-Hemingway Stadium (64,038)
7:30 p.m. ET • SECN+/ ESPN+
Series: First Meeting
ESPN+: Richard Cross, Ben Hartsock
Sirius: 204 • XM: 192
Spread: Ole Miss -34.5
Vince's Pick vs. the Line: Ole Miss -34.5
Score Prediction: Ole Miss 56 Austin Peay 3
Missouri (1-0, 0-0 SEC) at Kentucky (1-0, 0-0 SEC)
Lexington, Ky. • Kroger Field (61,000)
7:30 p.m. ET • SEC Network
Series: UK leads, 7-4
Last: MIZ, 20-10 (2020 at Columbia)
SECN: Taylor Zarzour, Matt Stinchcomb, Alyssa Lang
Sirius: 81 • XM: 391/81
Spread: Kentucky -5.5
Vince's Pick vs. the Line: Kentucky -5.5
Score Prediction: Kentucky 31 Missouri 24
Vanderbilt (0-1, 0-0 SEC) at Colorado State (1-0)
Fort Collins, Colo. • Canvas Stadium (41,000)
10 p.m. ET • CBS Sports Network
Series: First meeting
CBSSN: Rich Waltz, Aaron Taylor, Jenny Dell
Sirius: 135 • XM: 191
Spread: Colorado State -7
Vince's Pick vs. the Line: Vanderbilt +7
Score Prediction: Colorado State 24 Vanderbilt 23
---
Find more of my broadcasting work at VinceSports.net