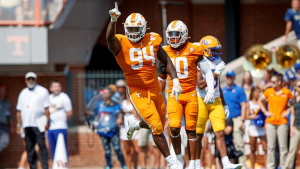 KNOXVILLE, Tenn. — With preparations underway for Tennessee football's Week 3 non-conference bout with Tennessee Tech, assistant coaches Kodi Burns (wide receivers) and Willie Martinez (secondary) and select players met with media Tuesday afternoon. The Vols welcome the Golden Eagles to Neyland Stadium Saturday at noon ET to wrap up a three-game homestand to open the 2021 campaign.
After evaluating film on his group through the first two weeks of the season, Burns sang the praises of his receiver corps—noting their quick adaptation to learning new schemes with a new staff. He has been pleased with the room's decision-making and ability to create separation early in the season.
"It's crazy, obviously as coaches we get a chance to really evaluate the film, not just the TV copy," Burns said. "We get a chance to look at every single view and angle of the film and you really see growth from Week 1 to Week 2 as far as in-route adjustments and making the right decisions. (I) was really impressed from game one to game two, and it's a process. If we continue on that same strength, we're going to connect on some of those balls and really change some ball games moving forward."
On the defensive side, Martinez believes the secondary unit is rounding the corner on creating turnovers that will shift momentum in Tennessee's favor. He acknowledged the Tennessee defensive backs' focus on creating sudden change based upon the formations and schemes presented by the opponent week-to-week.
"Obviously the best thing you can do on defense is get a turnover, because that just kills the momentum of an offense," Martinez said. "From a coaching standpoint, you've got to tell them and show them the schemes that are very consistent, and what formations they run certain plays out of to get yourself in a position where that if we do have a call, you can be a little more aggressive.
"We've had some really good sudden change situations. Basically, it's 'not a turnover,' but to be able to change the momentum and stop an offense off of a turnover. I think that's the start of something. We keep on sharing with (the players) and showing them the positives of it. It's just like a momentum changer. We've just got to get the ball now, there's no doubt about it."
Volunteer super senior Matthew Butler has been graded by Pro Football Focus (PFF) as the second-highest rated interior defensive lineman in college football. Speaking with media on Tuesday, he broke down factors of his game that have made him stand out through the first two weeks of the season.
"Shoot, I would be up here talking for a few minutes," Butler said when asked where his game has grown the most. "Whether it's me getting on the ball, staying vertical, staying square, using my hands, having heavy hands, flipping my hips and making moves. I mean, that's just half of it, maybe not even that. I'm just trying to take steps in the right direction every day and, like I said, once you do something pretty good once, doing again and bring someone along with you."
Saturday's contest against Tennessee Tech will be streamed via SEC Network+/ESPN+, available online or through the ESPN app. For those seeking guidance on how to watch games on SECN+/ESPN+, fans can contact ESPN Customer Care at 1-888.549.3776 or https://support.espn.com/hc/en-us.
Video and transcripts from Tuesday's media availability with Burns and Martinez can be viewed below, in addition to select quotes from players.
Burns Full Transcript
On his assessment of WR Velus Jones Jr. through two games…
"He was definitely banged up during camp. He is a lot healthier (and) in a really good position right now. Through the first couple of games, (he's) just got to continue to get in the flow of things, get back progressing at an inside and an outside receiver. But so far, he's done a really good job for us. Got to continue to grow and develop him."
On having WR Jimmy Calloway back and his touchdown last week…
"Like I said before, Jimmy Calloway is going to be a special player when it's all said and done. I think it was evident out there on the field this past week that once he gets the ball in his hands, he's a difference maker. We knew that when he was a quarterback in high school and (he's) slowly starting to develop into a wideout, so really excited about the future for Jimmy. That was just a glimpse of what he can become, just got to continue to grow and develop."
On how far Jimmy Calloway has come in terms of learning the wide receiver position…
"It's really night and day how far Jimmy has come. Last year, being in a COVID year – just a strange a strange and unique year, which we all know – and then a new staff, so change of position coach, change of an offense, really have to relearn everything once again. So, I told him the other day, just watching his growth and development through the spring, the summer and now starting to make some plays in an actual football game against a pretty good ACC team, (I) was really impressed with him. The sky is the limit for Jimmy if he continues to grow, listen to coaching – which he does a phenomenal job of. He's just a great person, a good kid and he's truly a good football player as well."
On if the open deep passes were because of play design or the WRs beating the DBs…
"A little bit of both. I thought we did a really good job of game planning Pitt, trying to get some guys open (and) free some guys up on some free runs. But also, I think they went out there and did their part as far as trying to run by guys, and listen, we're young in the offense, we're young at receiver, as well. And really, when you look at it, all the quarterbacks are really young as well, so we just got to continue to grow and we're going to hit those balls. It's just a matter of time. I think coach Heupel said it's a race to be as good as we can be as fast as we can. You're going to see each week we're going to continue to progress each week and get better and we're going to start connecting on those big balls. Those are really what changes the games. You got guys running down the field, if we connect on a couple of those balls – rather it be via drops or overthrows, it doesn't' matter, there's no blame on anybody –  we just got to continue to get continuity, continue to be cohesive and make those plays and that'll change the game for sure."
On the versatility of the receiver room…
"Extremely pleased with the guys that really stepped in because you know how it goes in practice, you may not get all the reps as a receiver and you got to sit back, you got to listen in the walk throughs, you got to listen in the meetings, you got to be in tune and play the game or play the practice as if it's the game. So, once Jalin (Hyatt) went down – I guess it might have been four plays in – Jimmy (Calloway) stepped up, Walker (Merrill) stepped up and even Velus (Jones Jr.) moved to some slot, as well. So, we had some guys really step up into that role and we able to really get some free runs and make some plays. So, (I'm) extremely happy with what they did, and we got to continue to develop and grow those guys, as well."
On how to get WR Jalin Hyatt more involved in the offense…
"One thing we all know, Jalin can run. Jalin's got elite speed, he can run by anybody in this league, really. Again, you just go back to a young player. It's my job as a coach to continue to grow (and) develop him, to make sure that those 50-50 balls are sured-up catches for him. If he continues to do that, he can grow and be as good as he wants to be. So, that's just part of the process, just like Jimmy Calloway, just like (Jimmy) Holiday. Take out the COVID year, which is a really unique year, he's new. He's new to this offense. He has to continue to grow and if he does that, which he will, than he'll be a special player when it's all said and done."
On what WR JaVonta Payton needs to do to be more productive…
"Man, I've been extremely impressed with JaVonta Payton. He played extremely hard the entire game. JaVonta Payton just needs to continue to keep doing what he's doing. Like I said, the flow of the game, each game is different, each game is unique and takes on a mind of its own. And this game kind of transpired to where JaVonta may not have got a whole bunch of balls – which is fine, that's part of the game. When his time comes, he's going to be ready, he just has to keep playing like he's been playing, and his time will come."
On preparing receivers for different quarterbacks…
"My approach to it – played quarterback, like you said – it's not about the quarterback, we've got to be on point. I don't care who's playing at quarterback, rather it was Joe (Milton III) or Hendon (Hooker) doesn't matter, we got to be on point, we got to run the right depths, we got to run the correct reads, we got to run the correct routes and we got to make plays for those quarterbacks to take the pressure off of them. So, as long as we handle our part the rest will take care of itself. I tell my guys in the meeting, you don't ever question or worry about what's going on at quarterback, let's be on point (and) let's go out there and make plays."
On how WR Jimmy Holiday is progressing…
"Jimmy Holiday is another guy that has talent, has to truly continue to grow – missed a lot of time in the spring (and) missed a lot of time in the summer, as well, and also fall camp, so (he's) a little behind the 8-ball. But one thing that I've told him is that we continue to grow him and develop him just like the rest of these guys. We've got a young room and that's what we have to understand, is that these guys have to continue to grow. Jimmy Holiday played quarterback in high school and now he's learning how to transition into a true wideout. He also missed all that time in spring, summer and fall that's he's having to play catchup on, but he's extremely smart, he's a competitor and he's tough. I love Jimmy, he's going to be a good player for us when it's all said and done."
On their trust in veteran WR Cedric Tillman after his play so far this season…
"I tell you what, the trust in Tillman has really grown throughout camp and since I've been here in the spring. He's one of the guys I talked about that was kind of a pleasant surprise as far as getting that confidence and understanding that you're actually good. I know that he doesn't have a lot of time on task as far as playing in games. He's been here for a little while, but now I think he's to a point where he can be as good as he wants to be in this league. He's a big-body guy, strong hands and when you throw it up – which we saw in the Bowling Green game – it really doesn't matter who's around him, there's a good chance that he comes up with the ball. He made a play on a little comeback that he caught the ball (and) made a couple guys miss and you just see the pure strength that he has once he gets the ball in his hands. So, if he continues to grow the way he's been doing, I'm excited to see what the future holds for Tillman."
On how the receivers have looked through two games on some of the finer details…
"It's crazy, obviously as coaches we get a chance to really evaluate the film, not just the TV copy. We get a chance to look at every single view and angle of the film and you really see growth from Week 1 to Week 2 as far as in-route adjustments and making the right decisions. (I) was really impressed from game one to game two, and it's a process. If we continue on that same strength, we're going to connect on some of those balls and really change some ball games moving forward."
On if yards after catch in coachable or just a natural trait…
"Yards after catch is a unique ability that most guys have talent that you recruit to, and we do have a couple of guys that are great ball-in-hand guys. So, it's my job as coach to design routes and show you how to run the route to get you open. The rest of it is up to you. Once the ball is in your hands, it's up to you to go out there and do what you've done your whole life, and that's why you're here at Tennessee."
Martinez Full Transcript
On if he is surprised by Theo Jackson's strong start to the season…
"No. I was just sharing this with someone else … You win games, obviously, not on the weekend. You win them throughout the week, and since we've gotten here—when we all got here as a staff—off the field has been inconsistent with our entire team. Some of the things that Theo did right from the beginning, is that his attention to detail was phenomenal. Being on time, being early, being prepared for meetings. And then leading up to spring ball, he was ready for it. Obviously getting on the field, his communication skills were outstanding between teammates, and he was productive. He was very productive in our spring. I said that before in the past when we talked about the spring. He was consistent from all 15 practices. And then you take it to the summer, same thing. Off the field, outstanding. On the field, you can see his leadership skills. He's our leader on our back end in the secondary, one of our leaders on our team. He's not afraid to say it. When he's wrong, he says he's wrong. He owns up to it, takes ownership, and I think the guys feed off of that because it's truth, and it's true love. Then you take fall camp, same thing. So the first two games are exactly what we've seen between Sunday through Friday if you want to use a game week. Not surprised. He'll be the first one to say, the foot's not off the gas pedal for me as a coach. I'm pushing him constantly. I've been blessed to be able to do what I've been doing for a long time because I've been around some really good players that really get it. When you've the right one like (Theo), he's going to make everybody else better on the back end and on the entire team."
On his assessment of the secondary's communication through two games…
"It could be better. I think for the majority of time, it's pretty good. Like I was sharing some thoughts with somebody else, it's not where it needs to be … This last ball game, Pitt had tempo. Obviously, we see tempo every day, (so) that wasn't an issue. It was mainly where you've got different types of tools to use and you're going to make adjustments, and you're not on the same page with the tools that you're given as you practice throughout the week. It could be cleaner. If it was cleaner on Saturday, I think we would've played better. That starts with me, and I've got to make sure that's relayed to the players. But you know, they played really hard through the first two ball games from start to finish. Can it be better? Absolutely."
On the development of depth beyond the starting five defensive backs…
"We need more. We keep talking as a staff defensively, we're saying we've got to play more guys, and we do. A guy can't go out there and play 80-something reps. But there's a trust factor, too. You know, is he ready? This game was tight, this last ball game, and for the most part the first ball game was too early on. You're going to put the guys on (the field) that have earned it and have proven it in practice. You're a little bit slow to go ahead and substitute somebody, but we have to. We've got to play more guys, there's no doubt about it. It's getting better. You get guys like Christian Charles, T-Mac (Tamarion McDonald), Neiko (Doneiko Slaughter), that are playing outstanding on special teams. That's what we tell them all the time, that's how you earn (playing time). You guys are not starting on the defensive ball. You earn your reps by being outstanding and being playmakers on special teams. We've got to get those guys going and get them more reps these coming weeks. We're going to need it."
On leaning on his coaching experience from past stops to make an impact on this year's team…
"I think the experience that I've had has helped me (work with) different types of kids, different types of personalities. How to coach someone. That's the whole key, is not everybody is going to hear it the same way. Not everybody's going to get it. It's going to be more visual, probably, for the most part. Walkthroughs (for example). The communication has to be where you have to understand, how does he learn? How does someone learn? How does he take critique? There are guys that are really talented but they're just not mature enough in the process, or understand the process and what it takes. Obviously, the experiences help you deal with the different types of personalities through the years."
On his reaction to the defense's lack of turnovers through two weeks…
"I don't think it's frustration. The thing we teach every day is, obviously the best thing you can do on defense is get a turnover, because that just kills the momentum of an offense. We're working on it. It's not like we don't do it. We have turnover circuit every day. From a coaching standpoint, you've got to tell them and show them the schemes that are very consistent, and what formations they run certain plays out of to get yourself in a position where that if we do have a call, you can be a little more aggressive. All those things. But at the end of the day, we've got to be able to come through. I think we're working at it. I think we're doing the things that we need to do to get them in position to do that, we've just got to follow through with it. The one thing that will help you, we've had some really good sudden change situations. Basically, it's 'not a turnover,' but to be able to change the momentum and stop an offense off of a turnover. I think that's the start of something. We keep on sharing with (the players) and showing them the positives of it. It's just like a momentum changer. We've just got to get the ball now, there's no doubt about it."
On his evaluation of Trevon Flowers and Jaylen McCollough…
"I think they've done a really good job as far as the communication part that I was talking about earlier. Obviously two guys that have a tremendous amount of experience. They'll be the first ones to tell you they can play better. I think a majority of time they've played well, but there were times where they could be better and the entire secondary can be better. Especially when it comes to tackling. We like to say we're space eaters. You've got to be able to make plays in space, and they'll be the first ones to tell you that they could've made some plays Saturday that could've helped us. Whether it's one play, or two or three. I think it's been outstanding. I think the guys look up to them. They're versatile enough to play both sides, whether it's to the field or to the boundary, and play to their strengths."
On the factors that determine when a young defensive back is ready to play…
"It's going to be the daily process. How he goes about his business each and every day, whether it's academics, whether it's weight training. The effort that they put into everything they do. Everything matters. Everything's important. How you do anything is how you do everything, so to speak. It's the accountability part. Number two, it's when they're given the opportunity, they step on the field in practice and they're given those reps—whether it's in one-one-one, whether it's in seven-on-seven or an 11-on-11 situation—that they produce, that they make plays, that they know exactly what to do and they're productive on a consistent basis. And hold on to it, to be consistent in doing it day-in and day-out. The part that I just shared about Christian (Charles), T-Mac (Tamarion McDonald) and (Doneiko) Slaughter. The confidence is just continually (growing). You can see it when they get in there. Neiko went in there and played six snaps on defense to give Theo a blow. I felt very confident, put him in there, and he did an outstanding job. No one's going to say anything. No one's brought him up and the six plays that he had, but five out of the six plays, he actually did an unbelievable job that really kind of forced plays to somebody else. He was accountable. He knew exactly what to do. I think a lot of it too is, his success on special teams led to his confidence building, and the practice throughout the week."
On how he grades cornerbacks Alontae Taylor and Warren Burrell…
"I think there's been some times where they've been very solid for the most part, but I think there are also plays that they're leaving out there. It starts with me as a coach, and trying to identify and show them what I mean by that. But also too, like I said earlier, they've got to come through in the moments, can't have a missed tackle. When the ball's in the air on a 50-50 ball—that's why you basically are playing corner, to win those moments. I think that we can be better, they can be better. They'll be the first ones to tell you that, but they're obviously two of the best players on our defense. They've made plays. Obviously, the play that Warren makes late in the game, in the fourth quarter when they throw the deep ball, that's a big time play. Gave us another chance to give the ball back to the offense for a chance to win the game. They could be better."
On why turnovers haven't come for the Vols defense…
"I'm not saying that we haven't been in position. I mean, yeah, we're going to be hard as coaches – if you touch the ball with your hands you got to come up with it, you know. I just gave an example, a 50/50 ball is another chance. It can't be the 50/50 ball, I hear all the time, is an offensive play. Everybody talks saying 'the offensive player, well, he's good at the 50/50 ball' well the defender, he's got to be really good at the 50/50 ball. He's got a chance, you're right there, make a play. How do you win that? You're on the jugs every day like we do every day in practice. They have a certain amount of balls they have to catch every day. Then some more, go get some more, so when you do have an opportunity and you're in that position you've got a chance. You've gone over it in your mind and you've given yourself enough confidence that you'll catch the ball when the time comes. I think there's been a handful of times, and at those times I think the ball should have come down with us I think we've been in position as far as if it's zone coverage, I don't think anyone has just flat out dropped the ball, maybe once or twice in the two games. But, I think preparation will meet opportunity. That's why I'm a coach, I've got to get those guys in a position where – here's what they do on third down or 3rd & medium or 3rd & long, here's the call – this is when you take your chance. They're working at it, they really are, (turnovers) come in bunches and sometimes you do everything you can, you see a lot of great defenses, and I don't want to name them, but they win less than half of the turnover battles. That's definitely something we continue to stress and talk about and hopefully we'll get something sooner than later."
On if the play of cornerbacks allows for more aggressive defense…
"We're going to be aggressive anyways. Nowadays, on defense you have to be able to play man-to-man on everybody, safeties included and your nickelback. Anytime you put yourself in a one-on-one situation where you can dominate a receiver or receivers, it allows you to do so much more. Where you can change it up with some zone coverage, same look, and get yourself where you can get more vision on the quarterback. The quarterbacks that can run athletically, they break the pocket. (Pitt quarterback Kenny) Pickett was like that, that's somebody that did a great job, broke containment. We knew that from the get-go, we knew he was very talented, we knew he would be a guy that was tough and competitive. You have to be able to play man, it allows you to do more."
Player Quotes
Trevon Flowers – DB – Senior
On what has led to consistency in practice…
"Being locked in and trying to do better for my teammates and wanting to win. I am just trying to execute my game. "
On not getting a turnover in two games…
"It is something we work on every day. Day-in and day-out. We haven't had any breaks yet but one of these days we will, it will be a cycle after that. We work on it every day on the jugs and punch the ball out, sooner or later it will come. "
On his and Jaylen McCollough's performance the past two games…
"Jaylen and I just have to continue to improve, of course we can always do better. We need to focus on the details and lock into our assignments. Basically, we just got to become better cornerbacks back there. Just make sure everyone is on the right page, communicate better, field faster and play more physical."
On defensive backs coach Willie Martinez…
"He is a great coach. He tells us what to do or how to do it. He wants us to be our best, not just at football but as men, too. He is an amazing coach and knows what he is talking about."
Matthew Butler – DL – Senior
On the defensive line's play…
"I think we're going in the right direction. Obviously, we want to go even further, step it up even more. We want to be elite. That's obviously the main goal. Even once we get elite, we want to take it a step further. We really want to be the best in the country."
On where his game has grown the most…
"Shoot, I would be up here talking for a few minutes. Whether it's me getting on the ball, staying vertical, staying square, using my hands, having heavy hands, flipping my hips and making moves. I mean, that's just half of it, maybe not even that. I'm just trying to take steps in the right direction every day and, like I said, once you do something pretty good once, doing again and bring someone along with you."
On coach Rodney Garners impact this year…
"He's the man. When you have a coach who's not only coaching you the right stuff, but talking about the details, not letting you be average, not letting you be mediocre, that's going to bring out the best in you, obviously. That's exactly what he's been doing and that's exactly why he's been doing this a long time on an elite level."
On the passion for the game…
"I'll say from my perspective, I think that we've always had heart. The guys here, they do love football. I think the guys who end up on the field go out there and earn that time. Those who have the opportunity are going to go out there and compete, and compete their behinds off. I've never thought (heart) was a question. The biggest thing is just execution, execution, execution. Then maybe there will be times where something happens, you just improve off that, then make it happen, week-in and week-out."
Princeton Fant – TE – Redshirt Senior
On the involvement of tight ends against Pitt…
"It was just all of us coming together, working together as a tight end unit. Dialing into what coach (Alex Golesh) is really expressing to us. It's really paying off … we're just going to continue to work every week and come back stronger and stronger as we continue to play."
On the position he envisioned playing…
"I never knew I would play tight end, honestly. It's a blessing to play tight end and be a part of the Tennessee offense."
On players being able to get open in the pass game…
"Everything the coaches are coaching us on is working. We've got to continue to work as a team, and work hard as a team to get open for our quarterbacks. That something that we will do every day and when it comes game time we will show it."
-UT Athletics