UT Game Day Show Schedule Tennessee vs. TN Tech September 18, 2021 Noon ET Kickoff
*All times Eastern Standard Time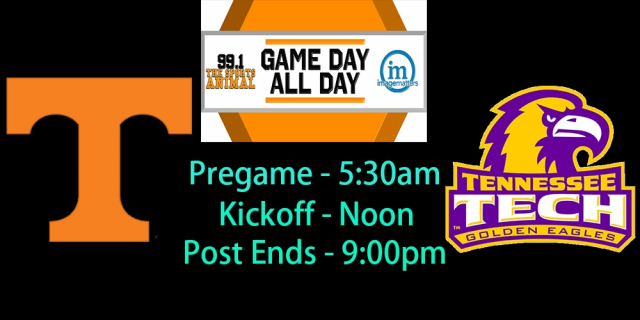 5:30 – 6:30am    
Coach-to-Coach
(The Sports Animal Budweiser Studios) 6:30 – 6:45am       
The Locker Room
(The Sports Animal Budweiser Studios) 6:45 – 7:00am          
Leonard's Losers
  (The Sports Animal Budweiser Studios) 7:00 – 8:00am           
Saturday SportsTalk
 (Fieldhouse Social at University Commons) 8:00 – 9:30am           
SEC Notebook 
  (Fieldhouse Social at University Commons) 9:30 – 10:30am         
College Football Today 
  (Gate 21 at Neyland Stadium) 10:30am – Noon       
Vol Network Pregame
   (Gate 21 at Neyland Stadium) Noon – 3:30pm         
Tennessee Tech at Tennessee
  (Neyland Stadium) 3:30pm – 6:00pm     
Vol Network Postgame
  (Press Box & Budweiser Studios) 6:00 – 7:30pm           
Football Finals
  (Walk Ons) 7:30 – 9:00pm         
Football Digest
  (Fieldhouse Social at University Commons) Sun 8:00 – 10:00am    
Sunday Sports Soundoff
  (The Sports Animal Budweiser Studios) Find out more about each show including the hosts on our
Image Matters Game Day All Day show description page.
99.1 The Sports Animal is the radio home of the Vols in Knoxville! Listen to us anytime, 24/7, on FM 99.1, AM 990, 991TheSportsAnimal.com and the WNML mobile app powered by
Big Kahuna Wings — the wings that changed it all!