By Jimmy Hyams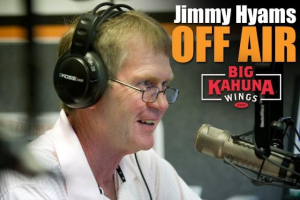 So what did we learn about Tennessee after the Vols dismantled outmanned Tennessee Tech 56-0 Saturday at Neyland Stadium before about 55,000 fans?
*We learned that coach Josh Heupel wants to run the offense at an even faster pace.
"Our pace is not anywhere near where it's capable,'' Heupel said after the Vols ran 79 snaps against the
Golden Eagles and 66 the week before against Pitt.
Tennessee gained just 417 yards – 5.3 yards per play. That's far below what Heupel wants against a good defense, much less Tennessee Tech.
*We learned that Heupel isn't crazy about UT's game prep 48 hours before kickoff.
He mentioned last week it wasn't good before the Pitt game. He said it was better before the Tech game, but when asked for specifics, Heupel pointed to the "mental approach'' and added "that's as specific as I'll get right now.''
*We learned Tennessee's defense can actually force turnovers.
After getting zero in the first two games, the Vols had four interceptions, including a 31-yard pick six by linebacker Soon Page. Jalen McCullough, Alontae Taylor and Tamarion McDonald had the others against a poor passing team.
*We learned that Tennessee's run defense is stout.
Yes Tech doesn't have much of a run game or offensive line, but the Vols still managed to hold the Golden Eagles to 35 yards on 28 carries. UT entered the contest allowing 64 yards per game and 1.88 yards per carry. Those numbers have been inflated by two inferior opponents, but the run defense has, nonetheless, been very impressive thus far.
*We learned that Hendon Hooker is an efficient quarterback.
Hooker isn't going to make All-SEC. He might not even start against Florida. But he accounted for four touchdowns against Tech, hitting 17 of 25 passes for 199 yards and three scores. He also led the team with 64 rushing yards and a touchdown. He did miss a couple of throws and he had a fumble, but he's been, in my opinion, UT's most consistent and reliable quarterback.
*We learned that UT is better on fourth down than third down – at least against Tech.
The Vols were a paltry 4 of 13 on third-down conversions but managed four of five on fourth down. The combined number of 8 for 18 isn't bad, but you're not going to be rolling the dice and going for fourth down that often against SEC foes, much less Florida. Better to convert on third down than risk a fourth-down snap.
*We learned that Tennessee can avoid penalties.
After having 13 accepted infractions against Pitt, UT had just three against Tech, although one wiped out an 87-yard opening kickoff return by Velus Jones.
*We learned that Tennessee is struggling to run the football.
The Vols has 202 rushing yards against Tech, but starter Tiyan Evans had just 41 yards on 15 carries (2.7 per run) and Jaylen Wright had just 43 on 9 carries (4.8 per run). That's not good enough against an FCS opponent that had been outscored 78-14 in its first two games against FCS foes. UT did not get the push it needs. It also has had poor play out of the guard spots for the second game in a row.
UT needs center Cooper Mays back in the lineup to solidify the group and also allow Jerome Carvin, who has done OK at center, to return to his natural guard position.
*We learned that UT can get receivers open.
Once again, UT quarterbacks misfired on several deep throws to open receivers.
"You guys could see that, too,'' Heupel joked with the media.
Yes, indeed. The Vols can get away with missed opportunities against Bowling Green and Tennessee Tech, but not against Florida or most other SEC opponents.
Heupel took no delight in the schemes that got receivers open, saying it matters not if you don't connect.
Although Heupel obviously wasn't pleased with several aspects of UT's lack of execution, he did say:
"It's really important that the players enjoy every win.''
It sure is. Because if UT doesn't perform at a higher level, there might not be many more.
---
Sponsored by Big Kahuna Wings: The wings that changed it all