By Jimmy Hyams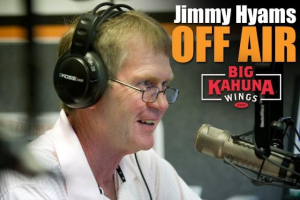 Tennessee has already played 14 defensive linemen in three games.
Whether that's a testament to the Vols' depth or strictly a fresh-body philosophy is debatable.
Perhaps it's both.
But one thing is clear: Defensive line coach Rodney Garner believes big men need a break during a game, because if the battery runs low, there is no re-charging.
"The one thing about big men,'' Garner said, "if you let them get out of gas, there is no refueling them in the game. I mean, it's over, you better get ready for the next week. So, our plan is to try and keep those guys from running out of gas so we can play the fourth quarter like we played the first quarter.
"We've got to keep fuel in the tank, there's no refueling. If we let them gas out, it's over, so just trying to develop that quality depth.''
Tennessee's run defense has been extraordinary this season, allowing just 54.3 yards per game and 1.7 yards per rush.
But that was against three teams not exactly adept at running the ball.
The Gators are a different animal. They rank second in the nation in rush offense (335.7) and churned out 245 yards against a stout Alabama defense.
What makes Florida's run game so problematic are the quarterbacks. Backup Anthony Richardson is averaging 25 yards per carry in two games (11 for 275) with two runs of over 70 yards.
Starter Emory Jones has 231 yards on 42 carries, 5.5 per attempt.
The leader among running backs is Malik Davis at 212 yards.
"They're a two-headed monster,'' Garner said. "They're both very good. They're both dynamic runners. Actually 15 (Richardson), may be more dynamic, as far as pure elite speed. But Emory is a seasoned veteran, he's got three years in that system, so he totally understands what (coach Dan) Mullen is trying to do. They do a great job with power, the counter reads, and they don't put them in situations for them to beat them.
"They give them situations that are conducive to them being successful, via the RPO's off the run. Then you throw in the quarterback run, which now they've got an extra guy we can't account for with hats. So, it makes us have to make sure that we're being really dialed in and detailed to doing all of the little things correctly."
You would think Garner would be elated with UT's run defense and tackles for loss (29). Not so.
"When you sit there and look at the film, you see a lot of plays that you leave out there every game, missed tackles, missed sack opportunities,'' Garner said.
"We've got to keep straining. We've got to strain harder and we've got to be able to finish plays. There are many missed sack opportunities where we could have had sacks. There are many more TFL opportunities where we should have made the tackle, instead of having missed tackles. … I think when you look at the film there is a lot of stuff every week that we can do to get better.''
Garner wants maximum effort whether UT is playing a contender or a pretender.
He was fuming at times during Tennessee's 56-0 rout of Tennessee Tech last Saturday.
"I was spasming out on the sideline in that game,'' he said, "but I just didn't think they played with an edge, weren't razor sharp. I don't want to just go through the motions, you know what I mean? We're trying to sharpen our blade every time we go out there. Our reputation is on the line, that's what I try to tell them. We walk on that field, our reputation is on the line."
While there is plenty of room for improvement, defensive end Ja'Quain Blakely believes the Vols are immensely better along the front four than a year ago.
"There's a tremendous difference in the d-line this year than it was last year,'' Blakely said. "I think it's just because we're all buying into the program. Coach Garner is a guy that expects the best out of you and is going to get the best out of you no matter how you feel."
Blakely said UT's run defense is playing "vertical'' with "relentless pursuit, just playing strong up front is the key.''
Even Garner admits his unit has made strides since the spring.
"I think we're moving the needle in the right direction,'' Garner said. "But every week, it's a new challenge. And the challenge is, are we going to be better this week than we were last week? That's what we said when we started on this journey, that we want to be better each day of practice. Each game, we want to see improvement and making strides to get where we want to be.
"It's like climbing Mount Everest, we're not going to be there overnight. We know it's a process, but we've got to embrace the process.''
What's been the key to UT's run defense so far?
"I think we got the kids playing hard,'' Garner said. "They're playing for one another. We're playing vertically for the most part. We're trying to create knockbacks. When you're getting 10 and 11 hats to the ball, you have an opportunity to be successful.
"Just playing with more of an edge, even improving our fundamentals with our hat placement, hand placement and our pad level. Just disengaging and tearing off our blocks, just doing all the little things that it is going to take when you get in conference play.''
Tennessee is now in conference play.
And it will take a Sampson-like effort to slay the Gators.
And they're at it, they better not run out of gas.
---
Sponsored by Big Kahuna Wings: The wings that changed it all