By Vince Ferrara / @VinceSports
Below are my Week 4 SEC football predictions.
This season, I'm sharing my picks both against the spread and straight-up.
Check back on my "Vince's View" blog page for future posts including weekly SEC football and NFL game predictions. Bookmark my blog page and check back often.
Week 3 Straight-Up Record: 11-1 (92%)
Week 3 vs. Spread Record: 7-5 (58%)
2021 Season Straight-Up Record: 32-7 (82%)
2021 Season Straight-Up Record: 21-18 (54%)
2020 SEC Season Prediction Record Straight-Up: 66-12 (85%)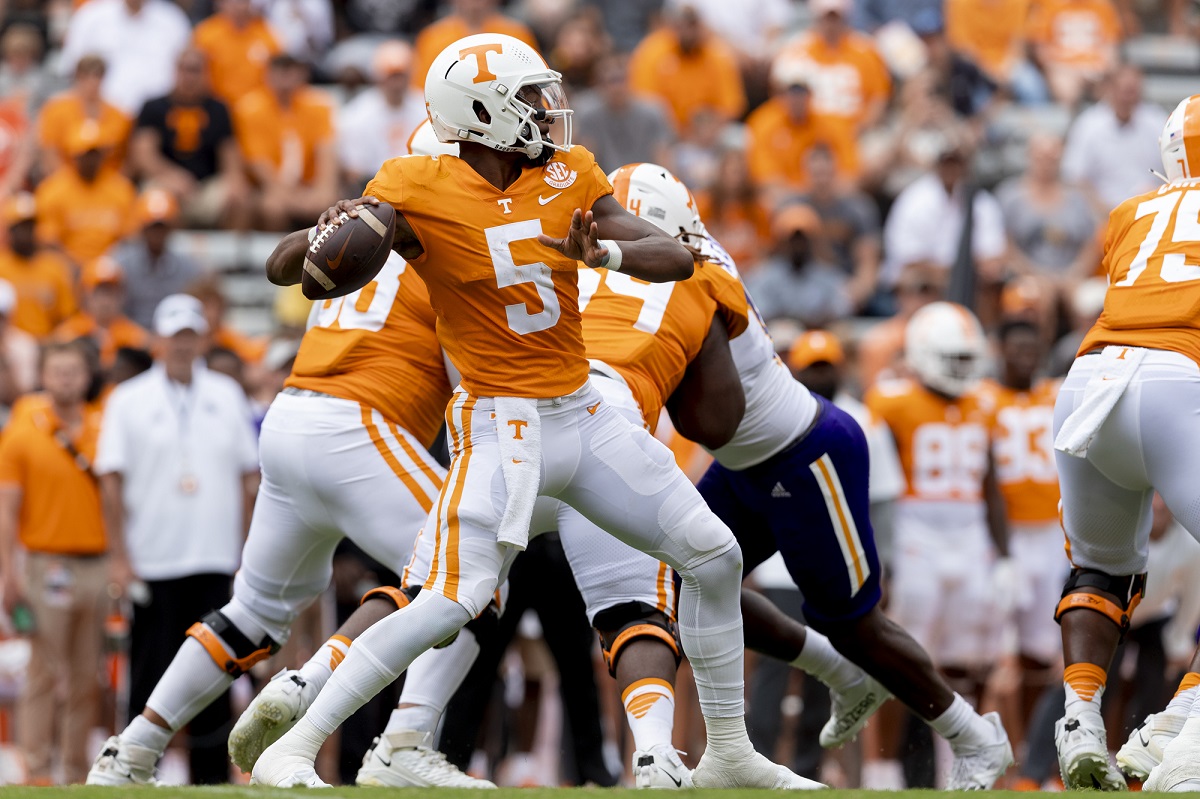 SATURDAY, SEPTEMBER 25
LSU (2-1, 0-0 SEC) at Mississippi State (2-1, 0-0 SEC)
Series: LSU leads, 75-36-3
Noon ET • ESPN
Last: MSU, 44-34 (2020 at Baton Rouge)
Starkville, Miss. • Davis Wade Stadium at Scott Field (61,337)
Sirius: 99/136• XM: 192/191
Point Spread: LSU -1.5
Vince's Pick vs. the line: LSU -1.5
Score Prediction: LSU 31 Miss State 13
Missouri (2-1, 0-1 SEC) at Boston College (3-0)
Series: First Meeting
Noon ET • ESPN2
Chestnut Hill, Mass. • Alumni Stadium (44,500)
Sirius: 133 • XM: 207
Point Spread: Boston College -1
Vince's Pick vs. the line: Missouri +1
Score Prediction: Missouri 34 Boston College 31
Georgia (3-0, 1-0 SEC) at Vanderbilt (1-2, 0-0 SEC)
Series: UGA leads, 58-20-2
Noon ET • SEC Network
Last: UGA, 30-6 (2019 in Nashville)
Nashville, Tenn. • Vanderbilt Stadium (40,350)
Sirius: 81/135 • XM: 81/190
Point Spread: Georgia -37
Vince's Pick vs. the line: Georgia -37
Score Prediction: Georgia 45 Vanderbilt 0
Texas A&M (3-0, 0-0 SEC) vs. Arkansas (3-0, 0-0 SEC)
Series: ARK leads, 41-33-3
3:30 p.m. ET • CBS
Last: TAMU, 42-31 (2020 at College Station)
Arlington, Texas • AT&T Stadium (86,798)
Sirius: 136/135 • XM: 191/190
Point Spread: Texas A&M -4.5
Vince's Pick vs. the line: Texas A&M -4.5
Score Prediction: Texas A&M 27 Arkansas 21
Georgia State (2-2) at Auburn (2-1, 0-0 SEC)
Series: First Meeting
4 p.m. ET • SEC Network
Auburn, Ala. • Jordan-Hare Stadium (87,451)
Sirius: 81 • XM: 81
Point Spread: Auburn -27
Vince's Pick vs. the line: Auburn -27
Score Prediction: Auburn 49 Georgia State 10
Tennessee (2-1, 0-0 SEC) at Florida (2-1, 0-1 SEC)
Series: UF leads, 30-20
7 p.m. ET • ESPN
Last: UF, 31-19 (2020 at Knoxville)
Gainesville, Fla. • Ben Hill Griffin Stadium at Spurrier-Florida Field (88,548)
Sirius: 99/84 • XM: 192/84
Point Spread: Florida -19
Vince's View: On defense, Star DB Theo Jackson, LEO Byron Young and LEO Tyler Baron on UT's edges at the line of scrimmage are going to be important if the Vols are going to have a chance in this game. They have to sure tacklers, aggressive getting vertical and know what they are seeing with Florida's effective rushing attack. Florida's offensive line has been one of the big surprises for the Gators. QB Emory Jones, despite the 2 TDs and 5 INTs, has still played better than many expected. Getting Anthony Richardson back as a second QB will add to the difficult task for Tennessee's defense. UT's rush stats have been great against the run this season, but that's versus bad running teams. This game will prove a lot in that area and for where the program is overall in Heupel's first year.
Tennessee has had more life in the offense with Hooker at quarterback. I think Hendon Hooker will start with previous starter Joe Milton III not seemingly full-go at practice. Hooker is a more willing runner than Milton and has seemed to be more decisive. The problem is, despite the experience and the positives, Hooker has been more prone to turn the ball over. If that continues, and Milton is available/ready to play, I think you may see a short leash back to Milton, especially if UT is behind.
UT has got to find a way to get the non-QB run game going again. In addition, the Vols have to make plays in the passing game against an improved, but not dominant, Florida defense.
Here's how rare big passing days by Tennessee quarterbacks have been in recent years, courtesy of ESPN, SEC Network and 99.1 The Sports Animal statistician, Jeff Muir.
UT had 6 300-yard passing games in 2012 (12 games), all by Tyler Bray. It has 10 from 2013-20 (8 years & 3 games in 9th year, 101 games) and five in the last 51 games.
There have been 8 individual 300-yard passing games in that span (5-Joshua Dobbs, 3-Jarrett Guarantano) along with two combined 300-yard passing games:
VU 2020 – 328 yards (Harrison Bailey 207, J.T. Shrout 90, Paxton Brooks 31) & SC 2019 – 351 yards (Jarrett Guarantano 229, J.T. Shrout 122)
The bottom line is, Tennessee absolutely must play better than it has at any point in the first three games and sustain that play. Anything less than a Florida disinterested effort or a gators in-game meltdown, it will take the best version of the Vols, that we haven't seen yet, for the Vols to pull the upset. With so much health, QB and handling road environment uncertainty with Tennessee, I think Florida wins by a couple of scores. I do expect UT to fight and playing hard.
Vince's Pick vs. the line: Tennessee +19
Score Prediction: Florida 35 Tennessee 17
Kentucky (3-0, 1-0 SEC) at South Carolina (2-1, 0-1 SEC)
Series: SC leads, 18-13-1
7 p.m. ET • ESPN2
Last: UK, 41-18 (2020 at Kentucky)
Columbia, S.C. • Williams-Brice Stadium (77,559)
Sirius: 136/135 • XM: 191/190
Point Spread: Kentucky -4.5
Vince's Pick vs. the line: Kentucky -4.5
Score Prediction: Kentucky 23 South Carolina 13
Southern Miss (1-2) at Alabama (3-0, 1-0 SEC)
Series: UA leads, 35-6-2
7:30 p.m. ET • SEC Network
Tuscaloosa Ala. • Bryant-Denny Stadium (101,821)
Sirius: 81 • XM: 81
Point Spread: Alabama -45
Vince's Pick vs. the line: Alabama -45
Score Prediction: Alabama 56 Southern Miss 3
Open: Ole Miss (3-0, 0-0 SEC)