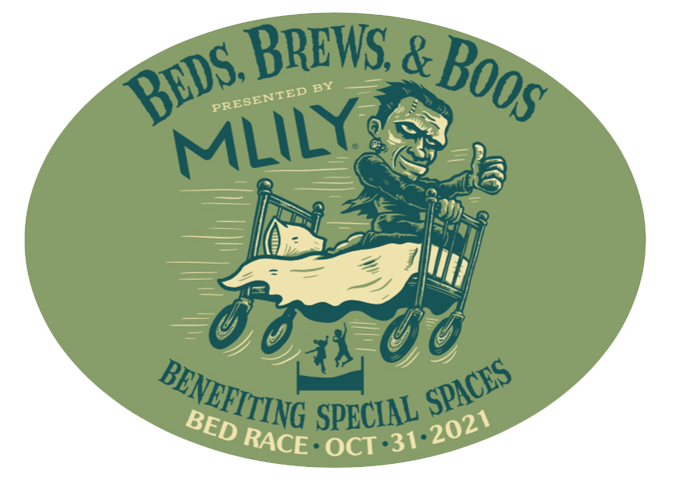 The Sports Animal is proud to sponsor Beds, Brews, & Boos Bed Races to benefit Special Spaces coming up October 31st at World's Fair Park!  Find out more about this fun event and how to sign up your team! 
Charity Bed Race Event on Sunday, October 31st, 2021
At World's Fair Park – 963 Worlds Fair Park Dr, Knoxville, TN 37916
Presented by MLILY
Benefiting Special Spaces
Click Here to get more information and to sign up!
BED RACE 1 PM
Corporate and community teams of 5 build their beds and compete for top spots in creativity, fundraising, and, of course, speed on the course!
Teams advance through a series of heats and some serious fun.
FESTIVAL 3 PM
Following the Bed Race, event participants can enjoy a Halloween celebration featuring local brews and spirits, food trucks, live music, and more!
What is a Bed Race?
HOW DOES IT WORK?
• Teams of five (5) sign up to race a bed; one (1) person rides. • Bed must adhere to guidelines.
• Entry fee: $500.00 to be paid at time of registration.
• Racecourse is 1/8 of mile.
• All participants must register on-line and sign waiver.
• Teams choose their own themes.
• Participants are encouraged to dress along with the bed theme decoration to win prizes.
BED RACE RULES AND GUIDELINES
• Each team consists of 5 people who race (4 Runners, 1 Rider). The Rider must wear helmet.
• Two beds will race twice for a best time trial. Top 20 times will race in elimination rounds
• All beds must be decorated (Remember there is also a contest for best decorated)
• Any size wheels are permitted
• No breaking or steering devices allowed
• Pushing the bed only during the race, no pulling
• All 5 team members must pass finish line (with the bed) to win
BED CONSTRUCTION
• Twin or full bed size only.
• Mattress or padding (minimum of 4 inches thick) must be part of design
• The design must mimic a bed with headboard and footboard. A parade bed is race bed!
• Beds must have a minimum of four wheels, one in each corner, all must touch the ground.
• Beds can be decorated in any way but must have a headboard and footboard as part of the design.
• Bed cannot have any means of propulsion other than the team pushing it.
• No motors. No steering mechanism. Human power only. No brakes.
• Bed may have push bars not extending more than 10 inches out. Nothing sharp may be part of the bed.
• No sharp items, glass, flames, or obscene items on beds. Beds will be disqualified for any of these violations.
• Beds not constructed according to the rules will be need to be modified to adhere to them prior to the race.