UPDATE: Congratulations to our Big Ticket 2022 Winners!
Tennessee Football- Larry Eastridge
Tennessee Basketball- David Coffelt
Tennessee Baseball- Carter Shipe 
Tennessee Softball- David Moore
Lady Vols Basketball- Eddie Collier
Knoxville Ice Bears- Cyndi Greer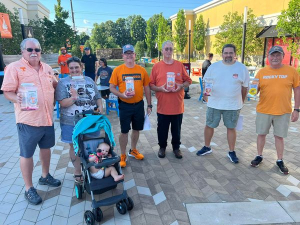 Big Ticket has returned for the 2022 season! Find out how you can win a Tennessee season ticket package from 99.1 The Sports Animal, Food City and Body Armor Sports Drink!
CONTEST DATES
GRAND PRIZE- You Could Win One of These Great Season Ticket Packages!
Season tickets to UT Football and a parking pass for 2022
Season tickets to UT Men's Basketball for 2022-2023 season
Season tickets to Lady Vols Basketball for 2022-2023 season
Season tickets to Tennessee Baseball for the 2023 season
Season tickets to Lady Vols Softball for the 2023 season
Season tickets to the Knoxville Ice Bears 2022-2023
HOW TO ENTER
Attend a designated Big Ticket 2022 remote broadcast conducted by the Station, complete an entry form and place the form in the designated entry box at the location. The locations, dates, and times of the participating remote broadcast locations will be posted and updated at the following URL: www.991thesportsanimal.com, as new remote broadcast locations are added or otherwise modified throughout the Contest Period at the Station's sole discretion. Limit one (1) entry per person per remote broadcast. All entries must be received by the deadline stated at the remote broadcast. At the conclusion of each remote, Station will randomly draw two (2) entries from among all entries to be qualifiers.
REMOTE SCHEDULE
Tuesday, May 31st:

Erik Ainge Show- 9a-12p Food City 6710 Malone Creek Drive, Knoxville
Josh & Swain- 12p-3p First Bank 5537 Kingston Pike, Knoxville
SportsTalk- 3p-7p Food City 7608 Mountain Grove Drive, Knoxville

Wednesday, June 1st:

Erik Ainge Show- 9a-12p Cruze Tint and Tunes 2721 N Wright Rd, Alcoa
Josh & Swain- 12p-3p Ted Russell Ford Parkside Drive 9925 Parkside Drive, Knoxville
SportsTalk- 3p-7p UT VolShop 2517 University Commons Way Suite C 37916, Knoxville

Thursday, June 2nd:

Josh & Swain 12p-3p Food City 7350 Clinton Hwy, Powell
SportsTalk 3p-7p Auto Spa Express 139 E. Macon Lane, Seymour

Friday, June 3rd:

Erik Ainge Show 9a-12p Rusty Wallace Honda 109 Callahan Dr., Knoxville
Josh & Swain 12p-3p Tellico Village Golf- Toqua Course, 200 Toqua Club Way, Loudon
SportsTalk 3p-7p Oak Ridge Nissan 1549 Oak Ridge Turnpike, Oak Ridge

Monday, June 6th:

Erik Ainge Show 9a-12p Bob and Bert Golf Tournament 9a-12p Holston Hills Country Club 5200 Holston Hills Rd, Knoxville

Tuesday, June 7th:

SportsTalk 3p-7p Food City 7202 Maynardville Pike, Halls

Wednesday, June 8th:

The Starting Lineup 6a-9a Food City 4805 N Broadway, Knoxville

Thursday, June 9th:

Erik Ainge Show 9a-12p Bearden Beer Market 4524 Old Kingston Pike, Knoxville

Friday, June 10th:

Erik Ainge Show 9a-12p Rusty Wallace Kia 701 Callahan Dr., Knoxville
SportsTalk 3p-7p Food City 11501 Hardin Valley Rd., Knoxville

Tuesday, June 14th:

Josh & Swain 12p-3p Food City 1715 W Broadway Ave, Maryville

Thursday, June 16th:

SportsTalk 3p-7p Food City 2712 Loves Creek, Knoxville

Friday, June 17th:

Erik Ainge Show 9a-12p Rusty Wallace Honda 109 Callahan Dr., Knoxville
SportsTalk 3p-7p Oak Ridge Nissan 1549 Oak Ridge Turnpike, Oak Ridge

Monday, June 20th:

Erik Ainge Show 9a-12p Green Meadow Wine and Spirits 1147 Hunters Crossing, Alcoa

Tuesday, June 21st:

Josh & Swain 12p-3p Food City 1199 Oak Ridge Turnpike, Oak Ridge

Wednesday, June 22nd:

Josh & Swain 12p-3p Food City 9565 Middlebrook Pike, Knoxville
SportsTalk 3p-7p Heritage Realty 4877 Chambliss Ave, Knoxville

Friday, June 24th:

The Starting Lineup 6a-9a Tee Martin Golf Tournament- Avalon Country Club 700 Turnberry Circle, Lenoir City
Erik Ainge Show 9a-12p Rusty Wallace Kia 701 Callahan Drive, Knoxville
SportsTalk 3p-7p Oak Ridge Nissan 1549 Oak Ridge Turnpike, Oak Ridge

Monday, June 27th:

SportsTalk 3p-7p New Balance of Knoxville 8027 Kingston Pike, Knoxville

Tuesday, June 28th:

The Starting Lineup 6a-9a Food City 284 Morrell Rd., Knoxville

Wednesday, June 29th:

Josh & Swain 12p-3p Ted Russell Ford 9925 Parkside Dr., Knoxville

Thursday, June 30th:

Josh & Swain 12p-3p Food City 4344 Maynardville Hwy, Maynardville

Friday, July 1st:

Erik Ainge Show 9a-12p Rusty Wallace Honda 109 Callahan Dr., Knoxville
Josh & Swain 12p-3p Food City 7510 Asheville Hwy, Knoxville
SportsTalk 3p-7p Freedom Motors 7665 Maynardville Pike, Knoxville 

Tuesday, July 5th:

Erik Ainge Show 9a-12p Bearden Beer Market 4524 Old Kingston Pike, Knoxville

Wednesday, July 6th:

Erik Ainge Show 9a-12p Food City 507 S Charles G. Seivers Blvd, Clinton 

Thursday, July 7th:

The Starting Lineup 6a-9a Big Kahuna Wings 12828 Kingston Pike, Farragut
Erik Ainge Show 9a-12p Big Kahuna Wings 12828 Kingston Pike, Farragut
Josh and Swain 12p-3p Big Kahuna Wings 12828 Kingston Pike, Farragut
SportsTalk 3p-7p Big Kahuna Wings 12828 Kingston Pike, Farragut

Friday, July 8th

Erik Ainge Show 9a-12p Rusty Wallace Kia 701 Callahan Dr., Knoxville
Josh & Swain 12p-3p Food City 2221 Jacksboro Pike, LaFollette
SportsTalk 3p-7p Sandy Spring Park 655 Karrow St, Maryville

Tuesday, July 12th:

Erik Ainge Show 9a-12p Blue Water Climate Control 300 Winona St., Knoxville

Wednesday, July 13th:

Erik Ainge Show 9a-12p Jiffy Lube 2805 Broadway Ave., Maryville

Thursday, July 14th:

Josh and Swain 12p-3p Food City 6710 Malone Creek Drive, Knoxville 
GRAND FINALE: SportsTalk 3P – 5PM (last time to register) Give away runs from 5pm-7pm with check in from 5p-6pm at Pinnacle at Turkey Creek – 11251 Parkside Drive, Knoxville, TN 37934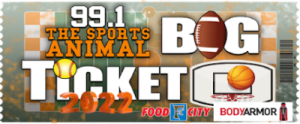 Big Ticket 2022 is sponsored by:
---
Food City
---
Body Armor Sports Drink
---