Heather Harrington's Body By Gold's
Our own Heather Harrington from Doc, Jeff & Heather on Sports Radio WNML is taking the Gold's Gym Challenge! Shouldn't you? Be on the look out for Heather on location for an autograph!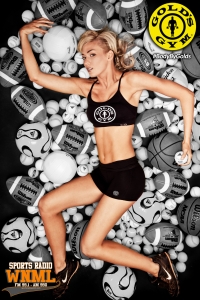 Simply right click and save it!
Watch videos of some of Heather's workouts at Gold's Gym Knoxville!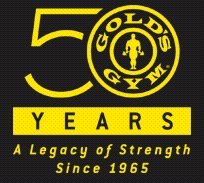 What is the Gold's Gym Challenge?
The Gold's Gym Challenge is a 12-week body transformation contest exclusively available to Gold's Gym members. Not only will the Challenge help you get fit, exceed your goals and improve your overall health, you will also have a chance to win $100,000 in cash prizes!
In January, Challengers participate in comprehensive "Before" measurements and photographs. Then, 12 weeks later, final measurements and "After" photographs will be taken to document results. Each Gold's Gym will choose their local winners who will then be eligible for the National prize pool!
1 male / 1 female winner in each age group: 18-29, 30-39, 40-49, 50-59 and 60 and up
The top male and female in each age category at National judging will take home $6,500 cash and a Microsoft Band! The runner up in each age category will win $2,500! And the third place transformation will win $1,000.
In 2015, the average Challenge participant lost 12 pound and 11 inches!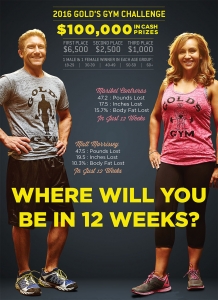 7 Knoxville Locations
Chapman: 6510 Chapman Highway Knoxville, TN 37920 (865) 573-9660
Walker Springs: 8445 Kingston Pike Knoxville, TN 37919 (865) 693-2550
Knoxville (Center Mall): 3001 Knoxville Center Drive Knoxville, TN 37924 (865) 673-8833
Farragut: 10708 Kingston Pike Knoxville, TN 37934 (865) 671-0781
Alcoa: 157 N. Calderwood Alcoa, TN 37701 (865) 273-1360
Oak Ridge: 302 South Illinois Ave Oak Ridge, TN 37830 (865) 276-3488
Lenoir City: 785 Highway 321 Lenoir City, TN 37771 (865) 988-0036