Early afternoons on the radio in Knoxville on 99.1 THE Sports Animal now combine the forces, expertise and loyal following of Josh Ward and VFL Jayson Swain! Listen to Josh and Swain, weekdays Noon to 3pm ET!
Now you can watch many of the shows live on the Josh & Swain Twitter feed and the station YouTube Channel. Those show videos and select interviews will be archived on each platform after the show airs and they will be archived on our website Video Section on the main page at 991TheSportsAnimal.com or find it directly here.
Follow the show on Twitter HERE!
Follow Josh on Twitter HERE!
Follow Jayson on Twitter HERE!
Joel Silverberg produces Josh and Swain. Born and raised in Knoxville, Silverberg attended Piedmont College where he played tennis from 2011-14. He broadcasts every home game for the Knoxville Ice Bears. Listen to Joel's sports update reports each hour, weekdays Noon to 3pm. Follow Joel on Twitter HERE.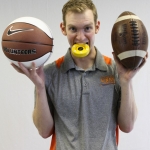 You can WATCH Josh and Swain every day in the feed below.
Daily Segments
12:45 The Face-Off presented by Marble City Family Chiropractic
1:45 Atta Boy – Shining light on the positive stories, inside and outside the sports world
2:45 Power Poll
Weekly Guests/Segments
Tuesday
2:30 Jay Busbee – Yahoo Sports
Wednesday
1:30 Austin Price – Volquest.com
2:00 Braden Gall – 440Sports/SiriusXM
Thursday
1:00 Allan Bell – SportsLine.com
Friday
12:30 Barrett Sallee – CBS Sports
1:30 Will Shelton – GamedayOnRockyTop.com
To interact with the guys, call or text us during the show at 865-656-9900. Download the free station mobile app powered by Big Kahuna Wings to listen to the show anywhere and on-demand.
Listen to archived interviews and full hours of Josh & Swain below or on the Podcast menu tab. Subscribe to the show podcast on Apple, Google, Spotify or wherever you get your podcasts. If you were subscribed to the Sports 180 show podcast previously then you're all set.
Josh endorses these fine businesses that we hope you'll support!
Swain endorses these fine businesses that we hope you'll support!