One of Knoxville's longest and well-known sports talk shows, SportsTalk, can be heard on weekdays, 6 to 9am, with Vol Network play-by-play voices and hosts John Wilkerson and Vince Ferrara.
Stay up-to-date with the latest in Tennessee athletics Monday thru Friday on your morning commute as SportsTalk brings you the best coverage of the University of Tennessee. This historic, successful show that's the longest running sports talk show in East Tennessee brings the audience credibility, educated opinions and entertainment. John and Vince are also the Tennessee Vols Baseball radio broadcast team on the Vol Network. Podcasts presented by Roane State Community College, "where we put students first!"
SportsTalk welcomes guests every week from around the country that range from NFL reporter John McClain, Brent Hubbs of Volquest, Tennessee Titans voice Mike Keith, former Tennessee Basketball staffer, VFL Steve Hamer, Vols Baseball coach, Tony Vitello and more. Some guests are seasonal.
SportsTalk welcomes calls or texts at 865-656-9900 as the large and loyal listening base ask the two co-hosts questions regarding Tennessee football and everything else. For a complete layout of SportsTalk prior to the show, and updates on guests and times during the show, follow @SportsAnimal991 on Twitter.
About the Hosts
John Wilkerson is a 1988 graduate of the University of Tennessee and has been working in Knoxville radio ever since. The longtime voice of the Tennessee Baseball team has been seen at Lindsey Nelson Stadium since the 1990 season and has acted as the Tennessee football and men's basketball studio host for IMG's Vol Network dating back to 1994. You can hear Wilkerson all over the 99.1 The Sports Animal airwaves – year around – as the seasoned radio veteran has broadcasted high school football in the Knoxville area since the mid-90s. The VFL also hosts 99.1 The Sports Animal's NFL Report that is carried every Sunday from 10am to 12:30pm during football season. Follow John on Twitter HERE.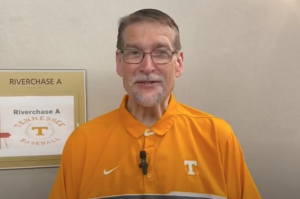 Vince Ferrara has been a show host on 99.1 The Sports Animal since 2010. Vince has been an on-air talent, play-by-play announcer and game analyst for Tennessee athletics on Learfield/IMG's Vol Network since 2013. He calls Tennessee baseball alongside lead voice John Wilkerson. Vince handles the Vol Network UT Football and Men's Basketball pregame interviews, as well as halftime hoops stats report and on the Vol Network pregame show outside Gate 21 at UT Football as "Mr. Microphone." He's the play-by-play voice of KOC High School Football Game of the Week on AM 990 partnering with analyst VFL Jay Graham. Vince also is a regular panelist on WATE-TV 6's highly rated Sunday morning TV show The Sports Source. Vince was born raised in Tampa and is a graduate of USF (University of South Florida) in Tampa. Vince has lived in four other states in his broadcasting career travels. Find his broadcasting samples and demos at VinceSports.net. Read his blogs on UT and much more. Follow Vince on Twitter HERE.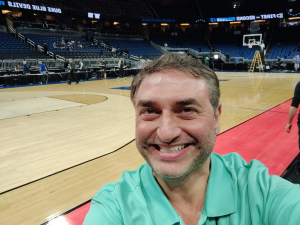 Show Producer
Sam Forman produces 99.1 The Sports Animal's morning show, SportsTalk. Sam was the Sports Director at WUTK's sports department at the University of Tennessee. He also joins the list of intern success stories at our station. He, like numerous before him, took advantage of his opportunity with hard work and an understanding of the local sports scene to turn that internship into a regular staff position. Sam hosts the longtime station racing show, The Lead Lap, with co-host Chris Bernard. Listen to the show podcasts here. Sam is a Philadelphia Phillies fan and the friendly voice you'll hear when you call in to talk to the guys on the show. Follow Sam on Twitter HERE.
Daily Features
6:02/7:02/8:02 – The Walk Through
8:08 – Step To The Plate at 8 (sponsored by many different businesses providing prizes)
8:20 – UT Football Practice Report (American Outdoor Equipment Center in Rockwood)
Weekly Features
MONDAYS
Tennessee Football Reaction Monday with postgame audio, listener interaction, news, notes, analysis and opinions after each Vols game!
TUESDAYS
8:20 to 8:50 – Brent Hubbs – Volquest (Diversified Enclosures & Screen)
WEDNESDAYS
TBD
THURSDAYS
TBD – Rob Lewis – Volquest.com
7:35 – Steve Hamer – Vols hoops VFL (A.G. Heins Company)
8:20 – John McClain – Freelance NFL Writer
FRIDAYS
Tennessee Football Preview Friday with postgame audio, listener interaction, news, notes, analysis and opinions going into each Vols game!
Seasonal Features
TBD – UT Media Day Coverage Report (Games & Things)
TBD – HS Football Breakout POTW
TBD – UT Football Practice Report (Pools By Heritage)
TBD – The Officiating Hour w/Gerald Hodges – SEC Replay Official (AG Heins Company)
TBD – UT Opponent Preview
TBD – Pigskin Panel with John Chavis and Heath Shuler (Phoenix Conversions)
TBD – Picks Panel with a different guest picker each week (Twin Peaks)
TBD – UT Injury Report (sponsored by Fox and Farmer)
TBD – UT Football Preview (sponsored by RJ Young)
Seasonal Interviews
TBD – Danny White – UT AD *Every other week
TBD – Mike Keith – PBP Voice & Director of Broadcasting for Tennessee Titans
TBD – Mike Murray "Slap Shots Hockey Segment" – Knoxville Ice Bears GM
TBD – Jesse Smithey – 5StarPreps
TBD – Al Brown – Former basketball coach (Matlock Tire Service & Auto Repair)
8:35 – Tony Vitello – Vols Baseball head coach
Listen to the SportsTalk 📱 PODCAST below! Scroll through the archive to hear some great content from SportsTalk!
You can also listen or subscribe to the podcast on any of these major platforms or wherever you get your podcasts! Be sure to give it a 5-star rating, a review and share it! That will help us grow! Thank you so much!
Listen & Subscribe to the Podcast On Any Of These Platforms:
Apple: https://apple.co/3u5y8PM
Google: https://bit.ly/3ymI1ev
Spotify: https://spoti.fi/3A6PX52
Stitcher: https://bit.ly/3yoFReE
TuneIn: https://bit.ly/3OqsqjA
iHeart: https://bit.ly/39QI4Gd
Amazon: https://amzn.to/39S4Vkv