The Starting Lineup with Tyler is a fast-paced show that'll get you up in the morning.
Listeners will know the top story of the day to carry in to work and will instantly become the smart guy/gal at the water cooler. Tyler Ivens showcases some of the best guests nationwide that will bring fans a Tennessee perspective from outside the 865.
Additionally, the show will host weekly local Tennessee football and basketball beat reporters so fans will know each and every day what is going on atop the hill.
Follow Tyler on Twitter HERE.
Listen each morning for your daily benchmark features, as well as your Tennessee Lottery Sports Update, delivered by Logan Ward, to get you caught up on while you were sleeping.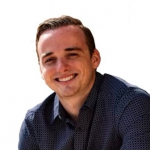 Show Producer/Morning Update Anchor
Logan Ward has been on staff at 99.1 The Sports Animal since 2019 and produces The Starting Lineup. Ward is from Knoxville and attended Middle Tennessee State University where he graduated in 2021. While in school, he interned with The Sports Animal for two years before his hiring. He also produces The Erik Ainge Show from 9am to Noon. You can hear Logan give sports updates, each hour from 6am to 9am. He co-hosts in-studio for our high school football broadcast coverage on Friday nights handling scoreboards and in-game score updates. Logan also fills in on other 99.1 The Sports Animal shows and afternoon newscasts on our sister station, NewsTalk 98.7. Follow Logan on Twitter HERE.
Call or text the show anytime to join in on the conversation at 865-656-9900. Outside of show hours? No problem – shoot the guys a text or leave a voicemail at 865-214-7318. You may be on air the next day! You can also connect with the show on social media via Facebook, Twitter or Instagram. Download the free station mobile app powered by Big Kahuna Wings to listen to the show anywhere and on-demand.
Daily Features (6-9am ET)
6:05 & 7:05 – The Morning Buzz (sponsored by Heritage Reality)
6:45 – Rotating features of Blank Space (Mon), Love It or Leave It (Tues), Wouldja (Wed), Love It or Leave It (Thurs) and To The Window (Fri) (sponsored by New Balance Knoxville)
7:30 – Five Burning Questions (Burton McKinnish Law)
8:05 – The Game – listener contest for prizes
8:30 – Start / Bench / Cut feature
8:55 – Riding with Ivens
*Each Hour at :15 & :45 – Tennessee Lottery Sports Updates with Logan Ward
*The entire show, The Starting Lineup, is sponsored by Junk Bee Gone
Seasonal Features
7:15 – UT Practice Report – Football and Basketball seasons (sponsored by Pools By Heritage)
8:15 – Monday Morning Quarterback with VFL Heath Shuler (Mondays)
Tyler Endorses These Fine Businesses
Bragg Weight Loss & Wellness powered by Nutrimost
Lee Company
FanDuel
City Farms Wine & Spirit
Twin City Auto Center