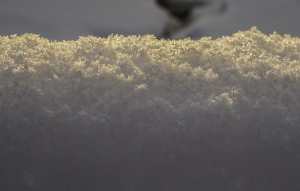 Local 8 meteorologist David Aldrich says the main snow event should begin around 10 p.m. Friday and he's calling for 2-5 inches for the valley, 6-10 inches for the Smokies, and for other areas like Oneida and Crossville, he expects half-an-inch to 2 inches.
Aldrich says, "But we still think the heart of our East Tennessee listening area will get 2-5, with some locally higher amounts on hilltops." 
Aldrich says some areas could get anywhere from half-an-inch to 2 inches in just an hour's time, so roads could quickly become treacherous. They may stay that way for some time with temperatures remaining below freezing all weekend.
Aldrich says, "There will be plenty of black ice, absolutely. We're down to about 18 tonight; Tomorrow's high is 27, so this stuff is going to stick around."
Previous story
Snow and cold temperatures are in the forecast over the next few days. Local 8 Meteorologist David Aldrich expects snow flurries to roll in between 6 and 8 p.m. Thursday evening and continue with occasional showers through Friday and maybe even Saturday.
Aldrich says, "If I had to be pegged down for one specific number, I think we're probably in that 1/2″ to 2″ range for the Knoxville area and 2″-5″ for the Smokies, so if your traveling plans take you east of Morristown, watch out, because you're going to be driving through 3 to 4 inches of snow. But again this is over a 36-hour time frame."
Aldrich doesn't expect the snow to pose too many problems in the valley, so it may be the cold that really brings winter's bite. Temperatures aren't expected to get above freezing all weekend. As kids head back to school in Knox County Monday, Aldrich says it will only be about 14 degrees.