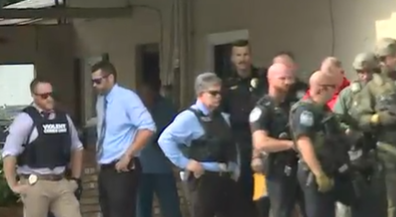 Knoxville Police and Negiotiators along with the Special Operations Squad involved in an hours long standoff with an armed man who barricaded himself in a West Knoxville home.
The man, identified as 40 year-old Dusty Mink reportedly armed with knifes, barricaded himself into a home on Dance Avenue after KPD officers responded to Reagan Avenue, where it was reported that Mink was involved in an altercation with a neighbor.
Mink reportedly ran from officers and climbed onto the roof of a shed while armed with the knives then barricaded himself inside a bedroom in the home.
After several unsuccessful attempts to establish communication with Mink, SOS personnel began deploying gas irritants into the bedroom. Mink exited the home and was taken into custody without further incident after almost six hours.
Mink has 13 outstanding warrants on a variety of previous charges. He will be charged with aggravated assault and evading arrest from the initial incident that prompted police response.