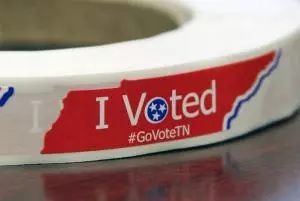 A new mayor and sheriff will be taking office in two East Tennessee counties after both incumbents are voted out.
The current Campbell County Mayor E.L. Morton will be replaced by Jack Lynch.
The sheriff will also be changing. Eddy Wayne Barton II received more votes than incumbent Robbie Goins, who faced recent controversy on social media after a video was circulated about how deputies trained their K-9.
Scott County Mayor Jeff Tibbals will be leaving his office after voters choose Jarried Jeffers to take over the position.
Sheriff Ronnie Phillips will also be leaving his office as Brian Keeton defeats the incumbent.
According to the unofficial results, almost 56,000 voters cast a ballot in this election. Fewer voters cast ballots this year compared to four years ago.
According to the preliminary results, Republican Knox County Mayor Glenn Jacobs has been reelected after defeating Democratic challenger Debbie Helsley.
Incumbent Republican Charme Allen beat out Democratic challenger Jackson Fenner to keep her seat as District Attorney General in Knox County.
Unofficial results show Elaine Davis secured the Republican nomination over Janet Testerman for the 18th District's seat in the Tennessee House. Republican Steve Triplett secured a large win over independent Dominque Oakley with 71% of the vote. Republican Kim Frazier defeated Democrat Vivian Shipe with 54% of the vote to fill the open at-large seat.
But the race for mayor in Farragut between Bill Johns and incumbent Ron Williams has been frosty this summer and it ended in one of the closes races of the night.
Williams defeated Johns by fewer than 60 votes, according to unofficial results.
For a complete list of results, please go to https://www.knoxcounty.org/election/